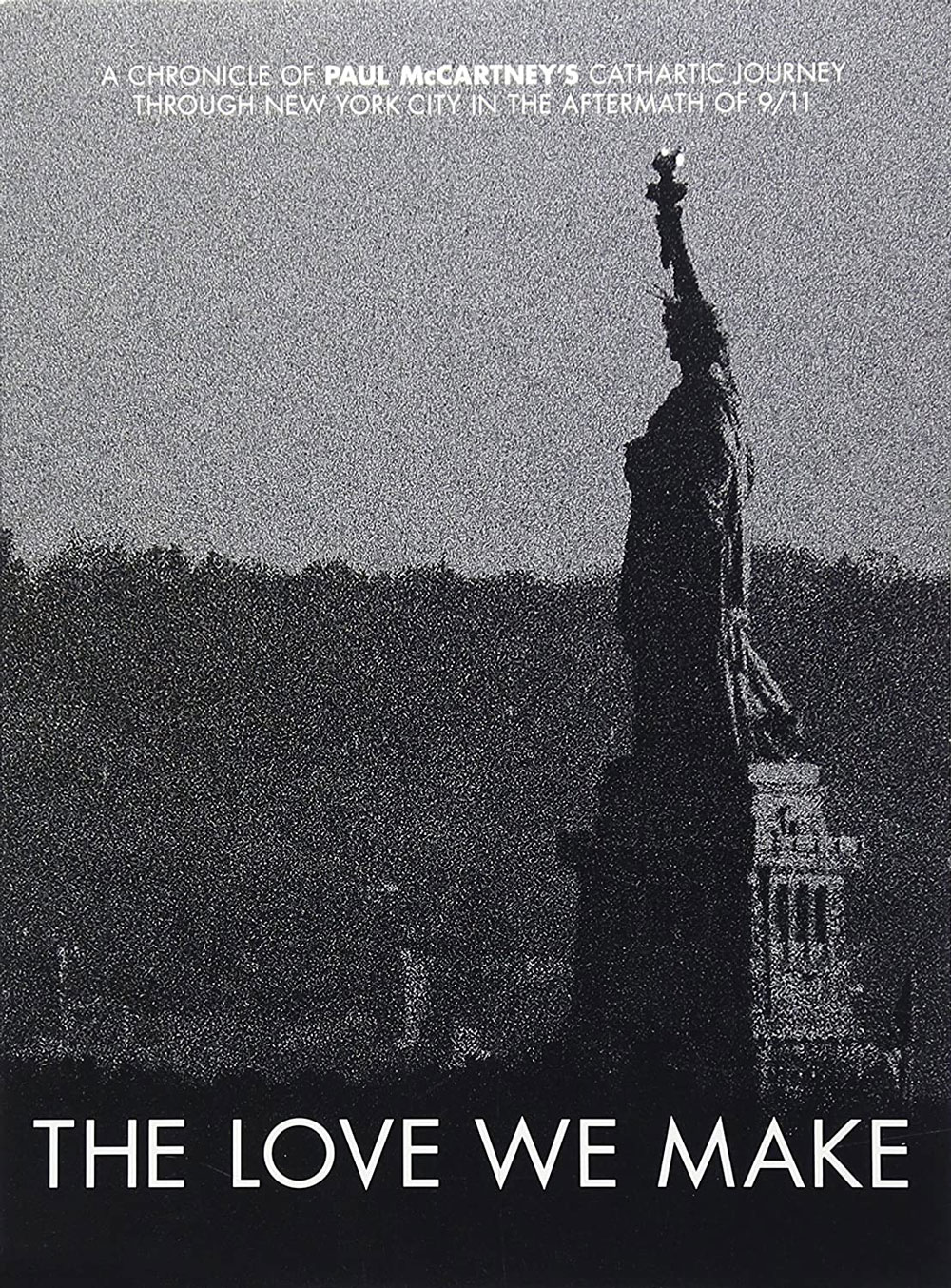 Paul McCartney - The love we make (2011)(Rock - Documentary)(Blu-ray 1080p)
Duration: 1:33:36
Year: 2011
Quality: Blu-ray
Video Resolution / Scan: 1080p
Format: BDMV
Video codec: H.264
Audio Codec: PCM / Dolby Digital Audio / DTS-HD Master Audio
Video: MPEG-4 AVC Video / 19951 kbps / 1080p / 23.976 fps / 16: 9 / High Profile 4.1
Audio 1: LPCM Audio / 2.0 / 48 kHz / 2304 kbps / 24-bit
Audio 2: Dolby Digital Audio / 5.1 / 48 kHz / 640 kbps
Audio 3: DTS-HD Master Audio / 5.1 / 48 kHz / 3400 kbps / 24-bit (DTS Core: 5.1 / 48 kHz / 1509 kbps / 24-bit)
"There was so much suffering as a result of 9/11 it's hard to imagine how one might bring relief to those who were impacted by the attacks, and honour those firefighters, police officers and rescue workers who lost their lives in their heroic attempt to help others. But Paul had the answer: music and a film that would tell the full story." ?Albert Maysles
Paul McCartney was in New York on the day of the attacks, and saw first-hand the destruction and tragic consequences of one of the most horrific days in US history. Directors Maysles and Kaplan, along with editor Ian Markiewicz have assembled extraordinary, intimate, never-before-seen footage of McCartney rehearsing for the benefit concert, connecting with New Yorkers on the city streets and storytelling behind the scenes at interviews with Dan Rather, Howard Stern and others.
Additionally, the film features performances from the benefit concert itself and unparalleled access backstage with McCartney and luminaries from the worlds of music, Hollywood and politics, including David Bowie, Steve Buscemi, Eric Clapton, President Bill Clinton, Sheryl Crow, Leonardo DiCaprio, Harrison Ford, Mick Jagger, Jay-Z, Billy Joel, Elton John, Stella McCartney, Governor George Pataki, Keith Richards, James Taylor, Pete Townshend, and many more.
"It was an honour to be able to help New York and America at that time in its history. There was a feeling of shock and fear in the air that I thought we could help alleviate with music. And the fact that so many people stepped up to join us made for a very uplifting evening for us all." ?Paul McCartney
Paul McCartney was sitting on a plane waiting to take off from New York City for England on the morning of September 11, 2001 when the pilot announced that they had to return to the gate ?the New York airports were closed because of an accident. McCartney looked out his window and saw the twin towers of the World Trade Center on fire.
In the six weeks that followed, McCartney traveled a very different New York City than the one he had known since The Beatles landed there in 1964. He talked to friends, fellow musicians and people on the street. The son of a volunteer fireman during the Blitz, McCartney began forming a plan to perform a small concert for the firefighters of New York. When word of this got out, he was approached by the film producer and former rock & roll promoter Harvey Weinstein to instead headline a Concert for New York City that VH1 was planning at Madison Square Garden.
Weinstein made the case that rather than have two memorial events compete, there should be one all-star show for the firefighters, rescue workers, police officers and families of those who had perished in the attacks on the World Trade Center. McCartney agreed to headline the Concert for New York, an evening that would bring together The Who, Billy Joel, Jay-Z, David Bowie, Eric Clapton, Elton John, Mick Jagger and Keith Richards, and many other great musicians, along with movie stars, political leaders and athletes. It was to be a tribute to those who had lost their lives in the attacks and a message to the rest of the world that New York City was safe, alive and open for business.
To document the events leading up to the Concert for New York City ?the rehearsals, promotional interviews, and his solo wandering through post September 11 New York ?McCartney called on an old acquaintance. The legendary filmmaker Albert Maysles had been in the car with The Beatles when they drove into New York in 1964 and, with his brother David, had documented their first US visit. The Maysles' footage was the basis for two films ?What's Happening! The Beatles in the USA and The Beatles: The First US Visit. Maysles had gone on to shoot such cinema verite milestones as Gimme Shelter, Running Fence and Grey Gardens.
THE LOVE WE MAKE, the film that has emerged ten years later from Albert Maysles and Bradley Kaplan, is a bittersweet bookend to Maysles' 1964 Beatles portrait. Here is Paul McCartney, thirty years past The Beatles, a widower in a wounded city, even more famous in 2001 than he was in 1964. Still handsome and charming, still mobbed on the street and followed everywhere by excited fans, this is nevertheless a man who immediately distinguishes the eBay hustler from the genuine autograph seeker, who has eyes in the back of his head for the suspicious car following his a little too closely.
THE LOVE WE MAKE is more than a behind-the-scenes film about the making of a landmark concert. It is a remarkably intimate portrait of one of the best known people in the world moving quickly through a city where everyone ?from street musicians to politicians, from housewives to journalists 梬ants his attention. It is a study of how someone who has been famous since he was twenty-one years old navigates a world with which he is determined to remain engaged. It is a film about a man who refuses to let fame and fortune cut him off from real life.
The McCartney that emerges is generous, patient and alert 梐 man traveling alone through an endless series of crowds. Along the way he encounters a succession of famous faces 桪an Rather, Barbara Walters, Howard Stern, Pete Townshend, Billy Joel, Jim Carrey, Leonardo DiCaprio, Harrison Ford, Eric Clapton, James Taylor and President Bill Clinton ?who delights in telling Paul, "They can say whatever they want to about the sixties generation ?we did a good job of hanging around."
A film that takes place in the space where the public face and the private man meet, THE LOVE WE MAKE suggests the reserves of empathy and determination that allowed Paul McCartney to do such a good job of hanging around for so long.
William Flanagan, August 2011
Tracklist:
01 Introduction
02 "I'm Down"
03 Dan Rather / David Adelson
04 "Fly Me to the Moon" / "From a Lover to a Friend"
05 Streets of New York
06 Pat O'Brien
07 Howard Stern
08 "Yesterday" Strings / "From a Lover to a Friend"
09 "Let It Be"
10 The Ed Sullivan Theater
11 Madison Square Garden / "Lonely Road"
12 The Concert for New York City
13 Eric Clapton
14 Backstage at Madison Square Garden
15 James Taylor
16 Harrison Ford / The Who
17 Bill Clinton
18 Paul McCartney / The Concert for New York City
19 Epilogue
20 Credits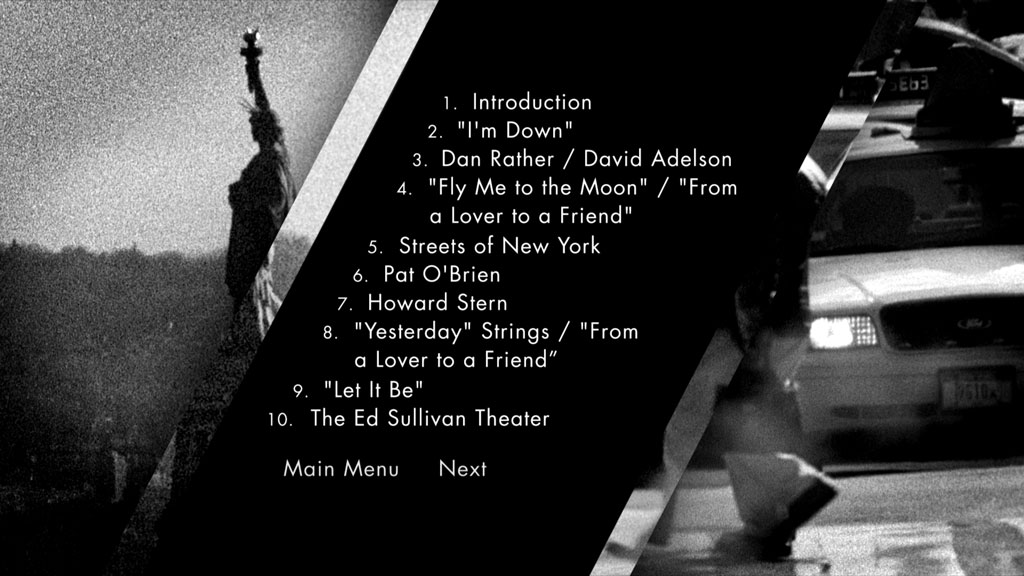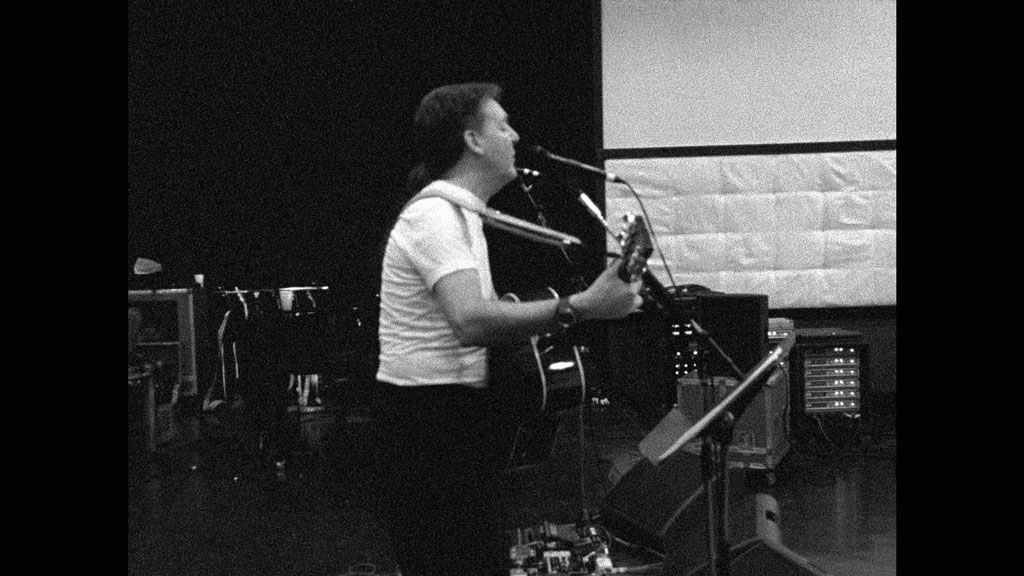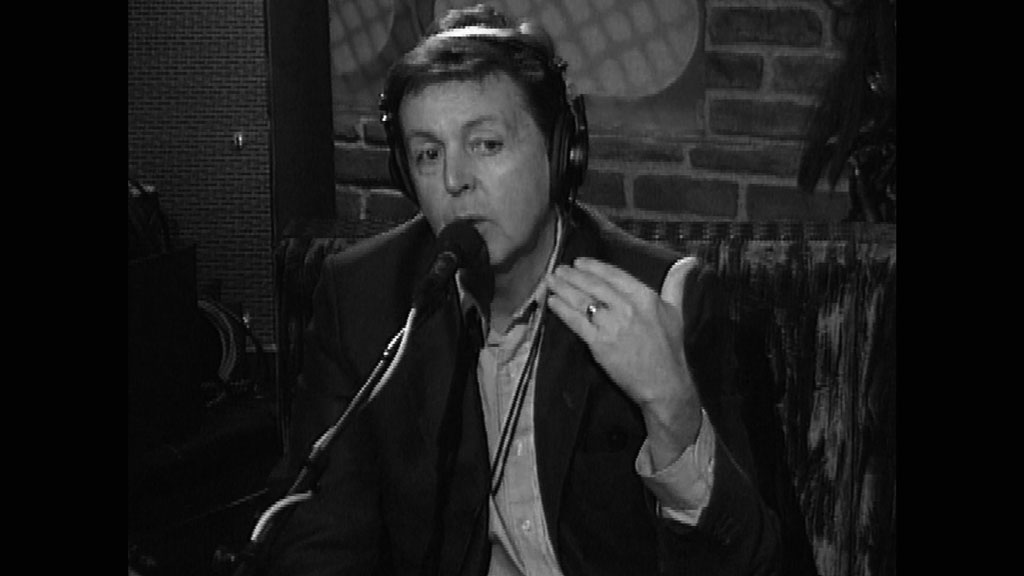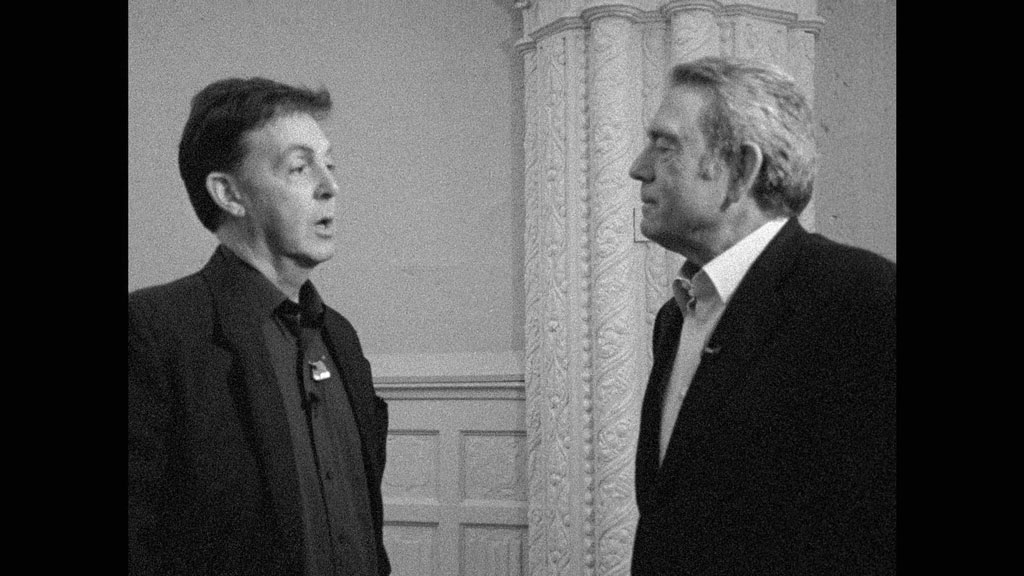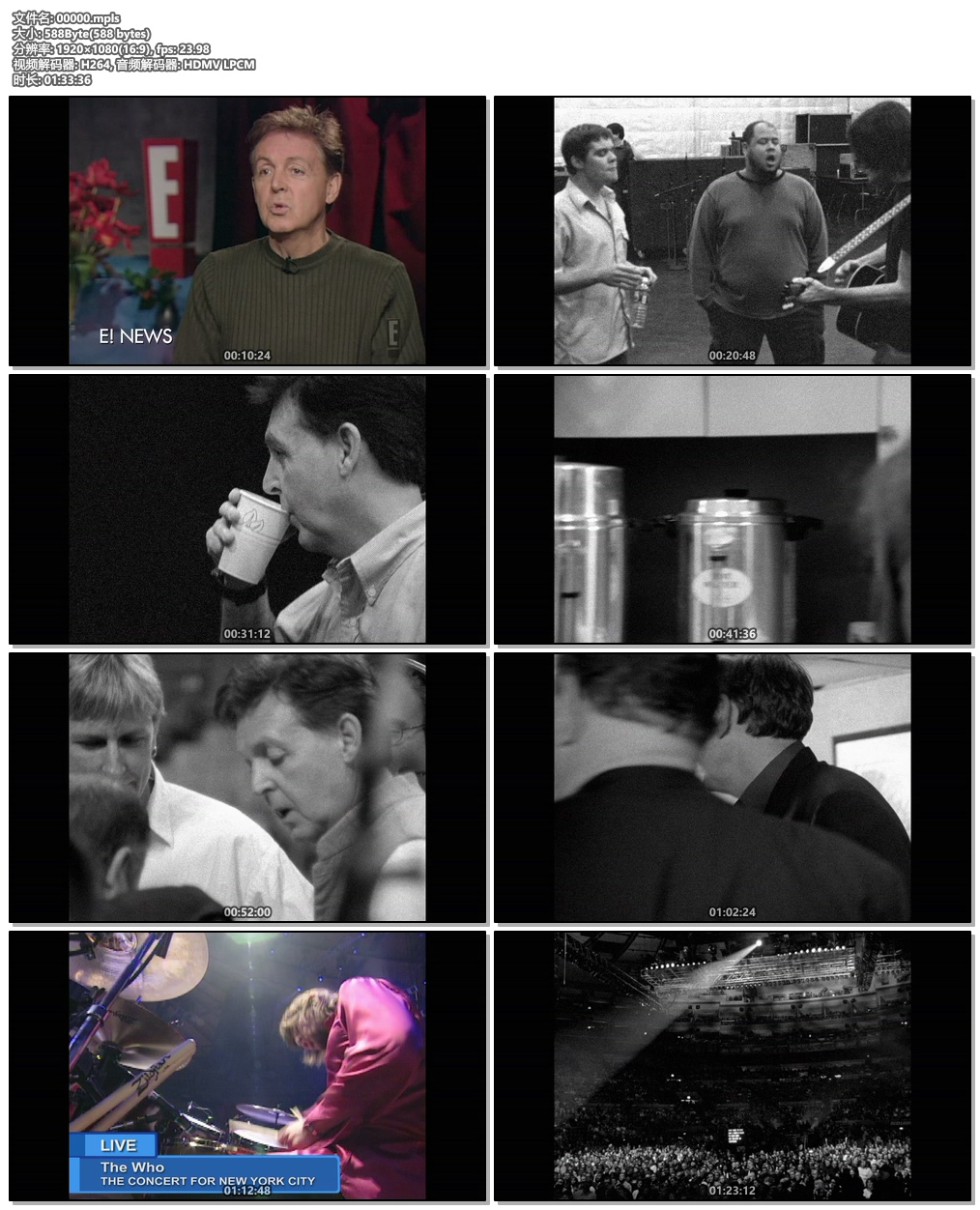 资源下载
所有资源都在百度网盘,如有链接失效、解压错误等、请联系管理微信:aimuvv
原文链接:https://www.lgych.com/42251.html,转载请注明出处。