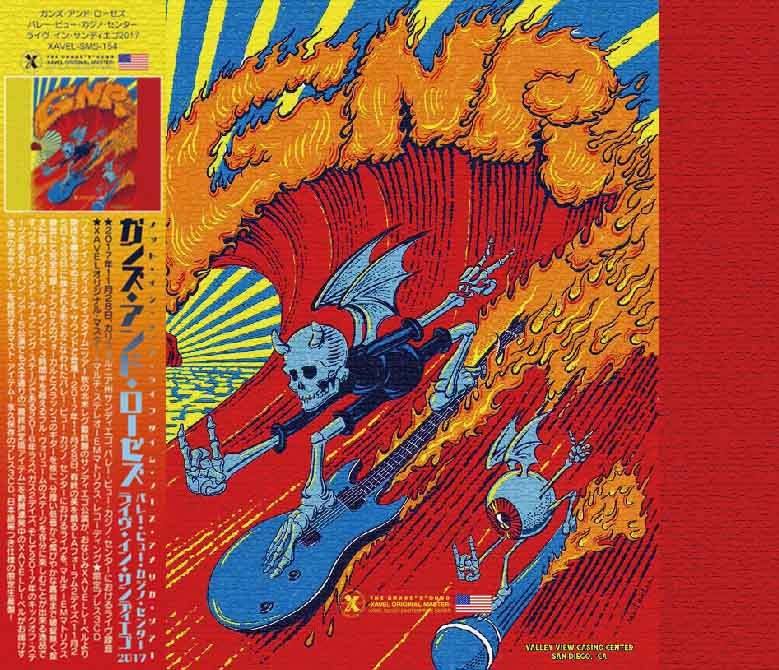 Guns N' Roses
Not In This Lifetime San Diego 2017 - Collector's Edition (liberated bootleg)
November 28, 2017
Valley View Casino Center
San Diego, California
XAVEL Silver Masterpiece Series
[XAVEL - SMS - 154LE] (2 BD-R / 2 DVD-R)
** Thank you to the MYGNRFORUM.COM contributors that made this commerical bootleg liberation possible **
Lineage = "Not In This Lifetime San Diego 2017 - Collector's Edition Edition" #55/300 2 BD-R / 2DVD-R :[XAVEL - SMS - 154LE] -> DVD Decrypter (DVD-R extraction) / MakeMKV (BD-R extraction) -> MD5summer [.MD5 Checksums]
Source: Multiple Stereo IEM Sources Matrix (LPCM soundtrack on Blu-Ray) / Multi-Camera (audience) Recording (Alexander Original Master)
Guns N' Roses 2017:
Lead Vocals: W. Axl Rose
Lead Guitar: Slash
Bass Guitar: Duff McKagan
Keyboards: Dizzy Reed
Rhythm Guitar: Richard Fortus
Drums: Frank Ferrer
Synthesizers: Melissa Reese
(Blu-ray Disc 1 (21.2 GB) & DVD 1 (4.28 GB))
[01] Intro (2:00)
[02] It's So Easy (3:15)
[03] Mr. Brownstone (4:01)
[04] Chinese Democracy (3:40)
[05] Welcome to the Jungle (6:58)
[06] Double Talkin' Jive (6:31)
[07] Better (6:09)
[08] Estranged (9:19)
[09] Live and Let Die (3:35)
[10] Rocket Queen (11:38)
[11] You Could Be Mine (6:28)
[12] New Rose (3:36)
[13] This I Love (5:48)
[14] Prostitute (5:40)
[15] Civil War (8:11)
[16] Yesterdays (3:42)
[17] Coma (9:53)
(Blu-ray Disc 2 (22.4 GB) & DVD 2 (4.28 GB))
[01] Band Introduction (1:39)
[02] Slash Guitar Solo (4:39)
[03] Speak Softly Love (4:30)
[04] Sweet Child O' Mine (7:55)
[05] Wichita Lineman (3:39)
[06] Used to Love Her (3:26)
[07] My Michelle (3:43)
[08] Wish You Were Here (6:12)
[09] Layla (coda) (3:15)
[10] November Rain (9:20)
[11] Black Hole Sun (5:57)
[12] Knockin' On Heaven's Door (13:52)
[13] Nightrain (8:26)
Encore:
[14] Patience (7:30)
[15] Madagascar (5:46)
[16] Whole Lotta Rosie (5:22)
[17] Don't Cry (4:04)
[18] The Seeker (3:14)
[19] Paradise City (7:11)
[20] Outro (3:15)
Running Time: 216 minutes
Total Size: Double Blu-Ray set: 43.6 GB
Total Size: Double DVD5 set: 8.56 GB
Live at Valley View Casino Center, San Diego, CA, USA 28th November 2017 [XAVEL ORIGINAL MASTER - Multi-Camera Audience Shot / Total Approx. 216 min.]
SPECIAL REQUEST: A reputable member of the Guns N' Roses live recording archival community is searching for the video source used for the Saskatoon, Canada March 26, 1993 "Rose In The Wild" 2CD/1DVD set produced by EVSD.
Their objective is to properly transfer the Saskatoon pro-shot video onto 2 DVD's and encode an MKV with high video bitrates and a lossless PCM soundtrack, for the benefit of Guns N' Roses fans worldwide.
If you are in possession of the Saskatoon '93 video source, please contact rockphantom! Thank you!
***DO NOT SELL***
***DO NOT SHARE WITHOUT THIS INFO***
***SUPPORT YOUR FAVORITE ARTISTS FINANCIALLY***
资源下载
所有资源都在百度网盘,如有链接失效、解压错误等、请联系管理微信:aimuvv
原文链接:https://www.lgych.com/41425.html,转载请注明出处。