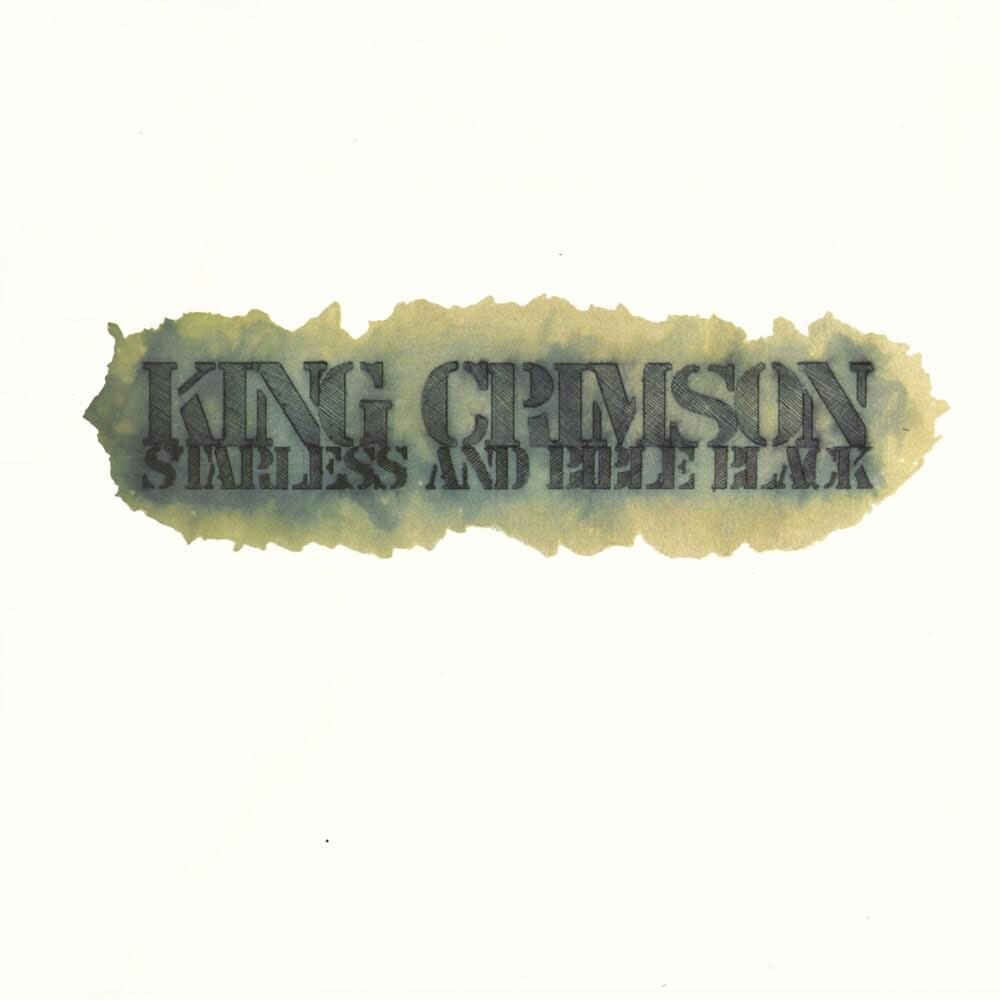 Year of Publishing: 2014
Genre: Progressive Rock
Country: UK
Publisher (label): Panegyric, Discipline Global Mobile
Duration: 11:48:59
Limited to a single pressing run, Starless offers an in-depth overview of King Crimson's celebrated mid-1970's live line-up at its most exploratory.
Few bands have offered as much variety in material from night to night, and King Crimson's propensity for improvisation and fondness for playing its newest material – often unreleased on record at the time of performance – is legendary.
* Blu-Ray Disc 1 features full lossless audio 24/192 transfers of material from the Glasgow and Zurich shows, freshly assembled & mastered from the original Great Deceiver mixes by David Singleton at DGM Soundworld in 2014 in LPCM stereo.
* Blu-Ray Disc 1 also features the Amsterdam show The Nightwatch, mixed by Steven Wilson and the George Chkiantz preparatory mix stereo in 24/96 High-resolution stereo & a 24/96 transfer of the original David Singleton/Robert Fripp mix of The Nightwatch.
* Blu-Ray Disc 2 features Starless & Bible Black in 5.1 Surround (DTS-HD MAS & LPCM 24/96) alongside new and original stereo masters of the album, a needledrop of an original vinyl pressing plus audio extras.
* Blu-Ray Disc 2 also features the Quad mixes of material from the Mainz, Amsterdam & Pittsburgh concerts.
* Blu-Ray Disc 2 also features the ORTF Paris TV footage in a new hi-res transfer from the original source files.
Disc 23 – Blu-ray, Disc One – 06:20:46
Quality: Blu-ray
Format: BDMV
Video codec: H.264
Audio codec: DTS-HD MA, LPCM
Video: MPEG-4 AVC Video 1920 × 1080 (16: 9) 2001 kbps, 1080p, 23,976 fps, High Profile 4.1
Audio: LPCM Audio, 2.0, 192 kHz, 9,216 kbps, 24-bit
Audio2: DTS-HD Master Audio, 2.0, 192 kHz, 6442 kbps, 24-bit (DTS Core: 2.0, 48 kHz, 1,509 kbps, 24-bit)
Audio Content
LPCM Stereo (24/192)
DTS-HD Master Audio
Apollo Theatre, Glasgow, UK, October 23, 1973
1. Walk On
2. Improv: Sharks' Lungs In Lemsip
3. Larks' Tongues In Aspic (Part I)
4. Book Of Saturday
5. Easy Money
6. Improv: We'll Let You Know
7. The Night Watch
8. Improv: Tight Scrummy
9. Improv: Loose Scrummy
10. The Talking Drum
11. Larks' Tongues In Aspic (Part II)
12. Peace – A Theme
13. Cat Food
Volkshaus, Zurich, Switzerland, November 15, 1973
14. Walk On: No Pussyfooting
15. Improv: Some Pussyfooting
16. Larks' Tongues In Aspic: Part I
17. RF Announcement
18. Lament
19. Peace – A Theme
20. Cat Food
21. Fracture
22. The Law Of Maximum Distress: Part I
23. Improv: The Mincer
24. The Law Of Maximum Distress: Part II
25. Easy Money
26. Exiles
27. Improv: Some More Pussyfooting
28. The Talking Drum
29. Larks' Tongues In Aspic (Part II)
30. 21st Century Schizoid Man
LPCM Stereo (24/96)
DTS-HD Master Audio
Concertgebouw, Amsterdam, Netherlands, November 23, 1973. (2014 Stereo Mix by Steven Wilson)
31. Easy Money
32. Lament
33. Book Of Saturday
34. RF Announcement
35. Fracture
36. The Night Watch
37. Improv: Starless And Bible Black
38. Improv: Trio
39. Exiles
40. Improv: The Fright Watch
41. The Talking Drum
42. Larks' Tongues In Aspic (Part II)
43. 21st Century Schizoid Man
Additional Material
Concertgebouw, Amsterdam, Netherlands, November 23, 1973. (1974 Stereo Mix by George Chkiantz) (Previously Unreleased)
44. Easy Money
45. Lament
46. Book Of Saturday
47. Exiles
48. Improv: The Fright Watch
49. The Talking Drum
50. Larks' Tongues In Aspic (Part II)
51. 21st Century Schizoid Man
Concertgebouw, Amsterdam, Netherlands, November 23, 1973. (1997 Stereo Mix by David Singleton & Robert Fripp) (Previously Released As "The Night Watch")
(Upsampled to 24/96 from original 16/44 source tape)
52. Easy Money Easy Money
53. Lament Lament
54. Book Of Saturday Book Of Saturday
55. RF Announcement RF Announcement
56. Fracture Fracture
57. The Night Watch The Night Watch
58. Improv: Starless And Bible Black Improv: Starless And Bible Black
59. Improv: Trio The Great Deceiver
60. Exiles Exiles
61. Improv: The Fright Watch Improv: The Fright Watch
62. The Talking Drum The Talking Drum
63. Larks' Tongues In Aspic (Part II) Larks' Tongues In Aspic (Part II)
64. 21st Century Schizoid Man 21st Century Schizoid Man
Disc 24 – Blu-ray, Disc Two – 05:28:13
Quality: Blu-ray
Format: BDMV
Video codec: H.264
Audio Content
Audio codec: DTS-HD MA, LPCM
Video: MPEG-4 AVC Video 1920 × 1080 (16: 9), 1003 kbps, 1080p, 23,976 fps, High Profile 4.1
Audio: LPCM Audio, 5.1, 96 kHz, 13824 kbps, 24-bit
Audio2: DTS-HD Master Audio, 5.1, 96 kHz, 5,629 kbps, 24-bit (DTS Core: 2.0, 48 kHz, 1,509 kbps, 24-bit)
Audio3: LPCM Audio, 2.0, 96 kHz, 4608 kbps, 24-bit
Video Content
Video: MPEG-4 AVC Video 1920 × 1080 (16: 9), 9965 kbps, 1080i, 29,97 fps, High Profile 4.1
Audio: LPCM Audio, 2.0, 48 kHz, 1,536 kbps, 16-bit
Audio Content
DTS-HD Master Surround
LPCM 5.1 Surround
LPCM Stereo (24/96)
Starless And Bible Black (2011 Steven Wilson & Robert Fripp Mixixes)
1. The Great Deceiver
2. Lament
3. We'll Let You Know
4. The Night Watch
5. Trio
6. The Mincer
7. Starless And Bible Black
8. Fracture
Starless And Bible Black (Original Mix 30th Anniversary Master)
9. The Great Deceiver
10. Lament
11. We'll Let You Know
12. The Night Watch
13. Trio
14. The Mincer
15. Starless And Bible Black
16. Fracture
Starless And Bible Black (Original UK Vinyl Transfer)
17. The Great Deceiver
18. Lament
19. We'll Let You Know
20. The Night Watch
21. Trio
22. The Mincer
23. Starless And Bible Black
24. Fracture
LPCM Stereo (24/48)
Additional Material
Singles & Radio Spots
25. The Night Watch (Single Edit – Stereo)
26. The Night Watch (US Radio Single Edit – Mono)
27. 30 Second Radio Advert
28. 60 Second Radio Advert
DTS-HD Master Surround
LPCM 5.1 Surround
LPCM Stereo (24/96)
Elzer Hof, Mainz, Germany, March 30, 1974 (Production Mastering at DGM by David Singleton & Alex Mundy)
29. Walk On: No Pussyfooting
30. Improv: The Savage
31. Doctor Diamond
32. Improv: Arabica
33. Exiles
34. Improv: Atria
35. The Night Watch
36. Starless
37. Lament
38. Improv: Trio
39. Easy Money
40. Fracture (Fragment)
Concertgebouw, Amsterdam, Netherlands, November 23, 1973 (2014 Steven Wilson Mix)
41. Easy Money
42. Improv: Starless And Bible Black
43. Exiles
44. Improv: The Fright Watch
45. The Talking Drum
46. Larks' Tongues In Aspic (Part II)
47. 21st Century Schizoid Man
Stanley Theatre, Pittsburgh, USA, April 29, 1974 (1974 Quad Mix)
48. The Great Deceiver
49. Lament
50. The Night Watch
51. Starless
Video Content
ORTF T.V, Paris, France, March 22, 1974 – 00:29:24
52. Larks' Tongues In Aspic (Part II)
53. Improv
54. The Night Watch
55. Lament
56. Starless
Central Park, New York, June 25, 1973 – 00:11:08
57. Easy Money
58. Fragged Dusty Wall Carpet
Disc 23 – Blu-ray, Disc One: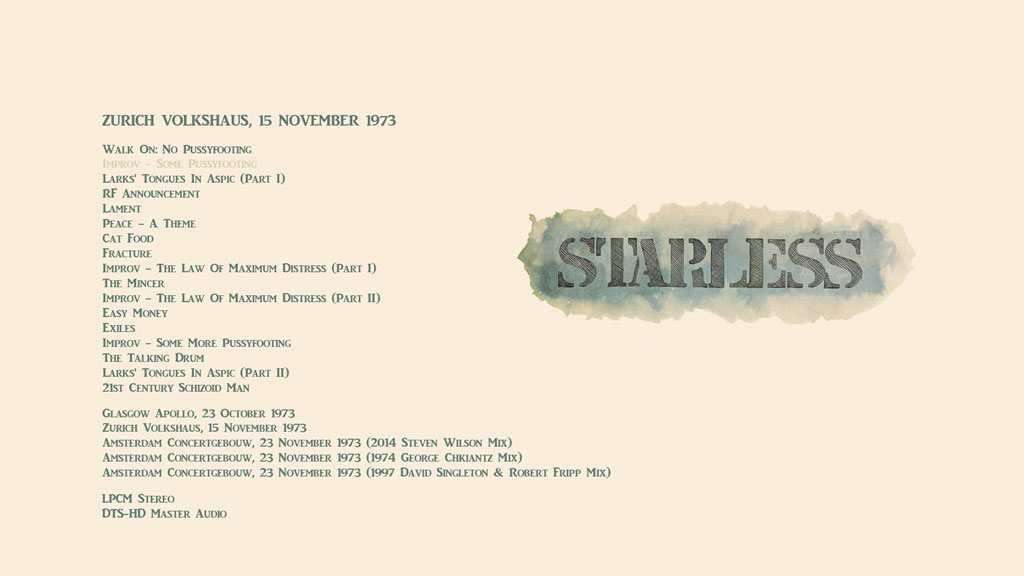 资源下载
所有资源都在百度网盘,如有链接失效、解压错误等、请联系管理微信:aimuvv
原文链接:https://www.lgych.com/53573.html,转载请注明出处。