影片名称 : Final Fantasy XV Original Soundtrack 2016
文件体积 : 87.2G
封装格式 : 蓝光原盘 BDMV (2BD)
音轨规格 : LPCM Audio / 2.0 / 96 kHz / 4608 kbps / 24-bit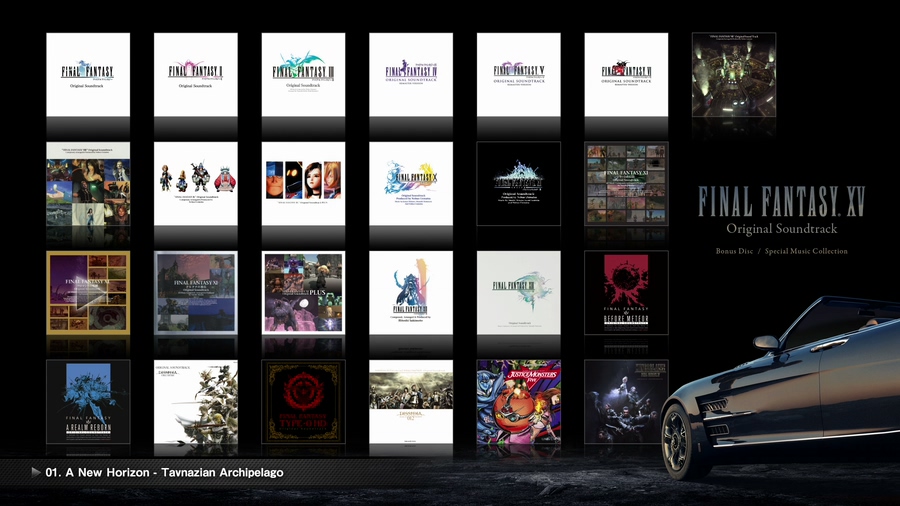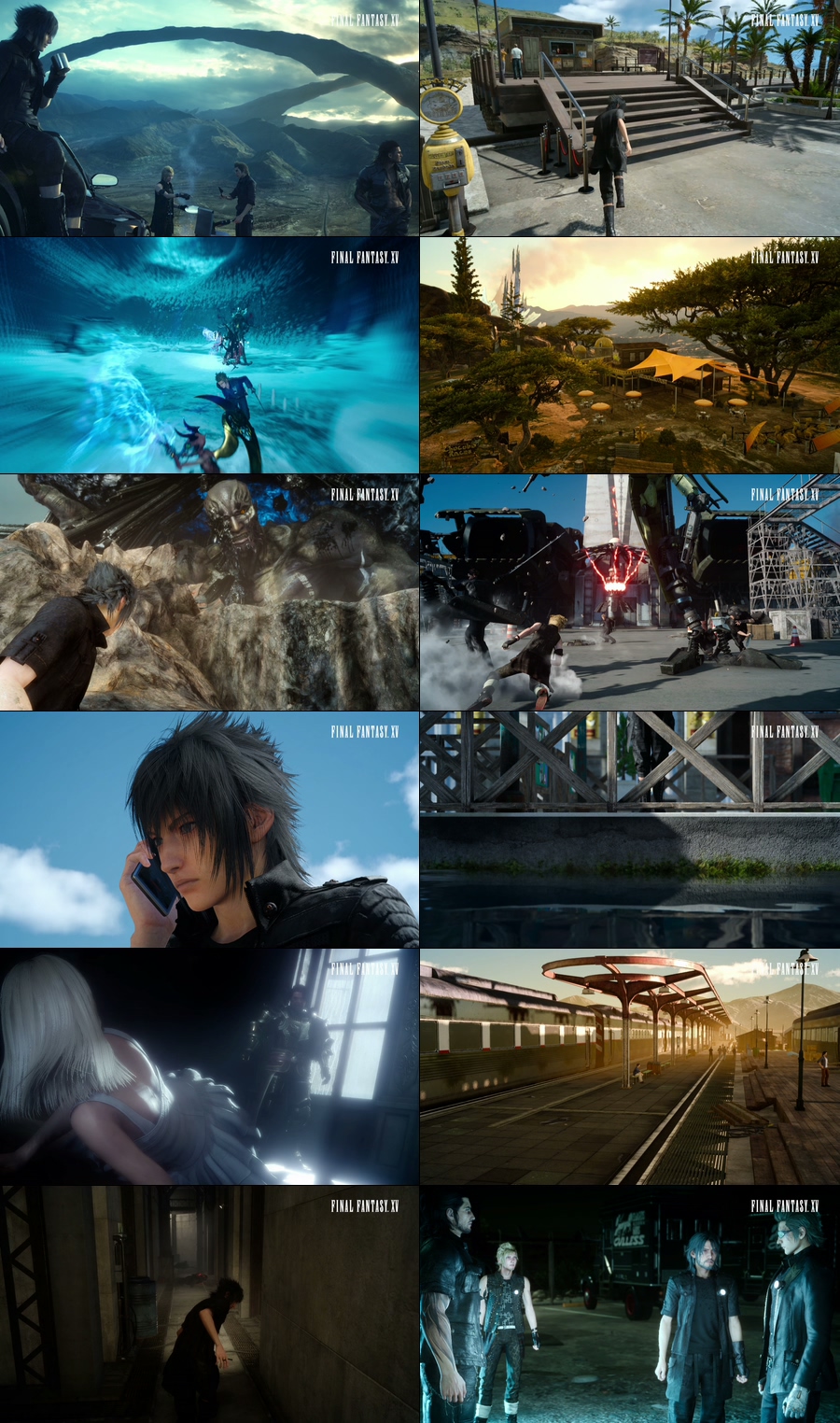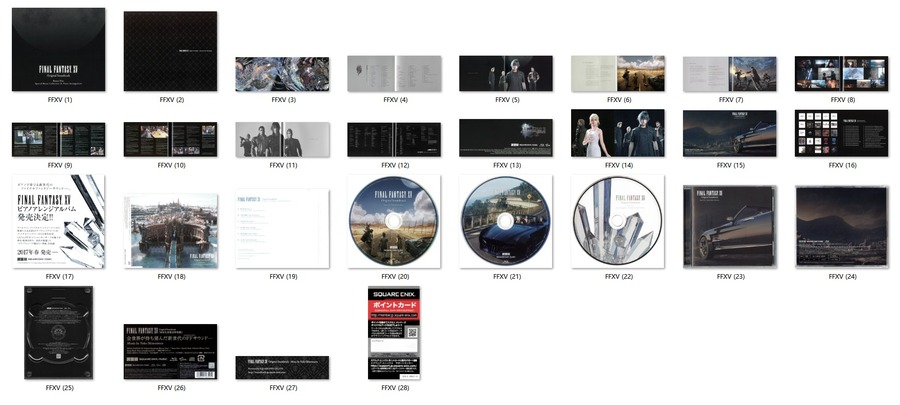 At the end of 2016, Square Enix Music released the highly anticipated Final Fantasy XV soundtrack. And it is sold in several versions: The main album, being released on four CDs (3800 ¥) and one Blu-ray (5000 ¥), contains 96 themes by the Japanese composer Yoko Shimomura; including arrangements for the music of her colleagues with the names Yoshitaka Suzuki, Tetsuya Shibata, Yoshino Aoki and Nobuo Uematsu. The total duration was more than five hours. I bring to your attention ... an epic collector's edition of the game (9074 ¥), then, in addition to Blu-ray with the original soundtrack, there is a second disc with a giant set of music from the previous parts of the series, as well as a bonus CD with arrangements of six key piano themes.
The Blu-ray music disc was selected in order to showcase beautiful graphics that utilize the latest technology, a feature of FINAL FANTASY games, along with the music! The disc also includes mp3 files so the tracks can also be played on a portable music device!
The limited, first run edition includes many notable bonuses !
◆ Bonus 1: Bonus tracks only available in the limited edition!
Theme song "Stand by Me" (Florence + the Machine) / Behind-the-scenes of the Boston recording session, among others.
◆ Bonus 2: Bonus Disc / Car Stereo (Blu-ray disc)
A Blu-ray disc soundtrack containing all the music the main characters listen to on the stereo of their beloved car, the Regalia. Contains over 250 masterpieces from the FF series! Historically, this will be the biggest Blu-ray disc soundtrack the company has released in terms of total recorded minutes and number of tracks !!
◆ Bonus 3: Bonus Disc / Piano Arrangement (CD)
Several tracks from the game have been selected to be included as piano arrangements in this special CD.
◆ Bonus 4: A Special, Large-sized Booklet
Contains a booklet worth the read that includes liner notes and a round table discussion with the main composer, Yoko Shimomura and members of the music production team! Yoshitaka Amano's "BIG BANG" artwork is planned to be used for the cover illustration!
Original Soundtrack: (05:10:58)
Tracklist :
01 Somnus (Instrumental Version) 2:30
02 Departure 1:45
03 Broken Down 0:36
04 Hammerhead 4:36
05 Wanderlust 5:49
06 Encroaching Fear 1:10
07 Stand Your Ground 3:29
08 Relax and Reflect 3:14
09 Day's End Fanfare 0:13
10 Horizon 0:40
11 Safe Haven 2:21
12 Lurking Danger 1:42
13 Hunt or Be Hunted 5:08
14 CINDY 2:50
15 Urban Chrome 2:30
16 A Quick Pit Stop 3: 49
17 Love Lost 4:20
18 Galdin Quay 4:17
19 ARDYN 3:43
20 The Aggressors 3:40
21 NOX AETERNA 1:33
22 The Hunters 3:38
23 What Lies Within 5:27
24 Daemons 3:53
25 Bros on the Road 3:27
26 Fantastica! 0:23
27 The Niflheim Empire 3:27
28 Veiled in Black 3:21
29 Valse di Fantastica 3:40
30 Crystalline Chill 3:07
31 What a Hoot 1:46
32 Blues de Chocobo 4:14
33 Reel Rumble 4:46
34 The Fight Is On! 2:47
35 Lestallum 3:56
36 Welcome to the Leville 1:40
37 Unsettling Aura 3:41
38 Don't Panic! 1:10
39 APOCALYPSIS NOCTIS 4:14
40 Cosmogony 3:36
41 Melancholia 2:44
42 A Premonition 0:50
43 NOX DIVINA 2:16
44 Labyrinthine 2:58
45 Flying R 4:25
46 Imperial Infiltration 4:00
47 Veiled in Black (Arrangement) 3:20
48 Invidia 4:32
49 Sorrow Without Solace 4:32
50 Sunset Waltz 1:20
51 Disquiet 2:11
52 OMNIS LACRIMA 4:30
53 Rodeo de Chocobo 2:49
54 Listen Up 2:55
55 Creeping Shadows 2:19
56 Impending Peril 1:52
57 Up for the Challenge 4:04
58 Cape Caem 2:24
59 Cape Caem - Our New Home 4:28
60 Cape Caem - Hidden Harbor 1:51
61 Bros on the Road II 3:09
62 NOCTIS 4: 39
63 Over the Waves 3:56
64 Altissia 2:48
65 Altissia - Gondola Ride 3:54
66 Welcome to the Royal Suite 2:54
67 Starlit Waltz 2:44
68 Prayer de LUNA 2:03
69 No Time Left 2:17
70 Song of the Stars 3:37
71 The Hydraean's Wrath 4:22
72 ARDYN II 2:48
73 LUNA 1:51
74 APOCALYPSIS AQUARIUS 4:13
75 Broken Bonds 3:08
76 Dining Car 3:07
77 Cartanica 4:12
78 Relax and Reflect - Pensive 2:13
79 Careening Into Danger 3:40
80 Tenebrae 4:05
81 Horrors of the Night 5:54
82 End of the Road 1:58
83 An Empire in Ruins 3:59
84 RAVUS AETERNA 4:20
85 In the Light of the Crystal 2 : 55
86 A World Unwaking 2:46
87 Neverending Nightmare 4:25
88 Homecoming 4:17
89 Hammerhead - The Last Bastion 4:01
90 Somnus 2:30
91 Hellfire 6:33
92 Magna Insomnia 5:18
93 Dawn 1:52
94 Somnus Ultima 2:01
95 Dewdrops at Dawn 1:38
96 Main Theme from FINAL FANTASY 2:09
97 Stand by Me (video) 4:01
98 APOCALYPSIS NOCTIS (Promotion Movie) (video) 2:13
Disc length 310: 58
Bonus Disc / Car Stereo (Blu-ray Audio): (15:20:26)
Tracklist :
01 FINAL FANTASY I Original Soundtrack # 01 - Prelude 1:47
02 FINAL FANTASY I Original Soundtrack # 02 - Opening Theme 1:53
03 FINAL FANTASY I Original Soundtrack # 03 - Main Theme 2:39
04 FINAL FANTASY I Original Soundtrack # 04 - Matoya's Cave 2:29
05 FINAL FANTASY I Original Soundtrack # 05 - Battle 1:41
06 FINAL FANTASY I Original Soundtrack # 06 - Mt. Gulg 2:37
07 FINAL FANTASY I Original Soundtrack # 07 - Airship 1:31
08 FINAL FANTASY I Original Soundtrack # 08 - Sunken Shrine 1:43
09 FINAL FANTASY I Original Soundtrack # 09 - Castle Cornelia 2:17
10 FINAL FANTASY II Original Soundtrack # 01 - Battle Theme 1 1:39
11 FINAL FANTASY II Original Soundtrack # 02 - The Rebel Army 2:27
12 FINAL FANTASY II Original Soundtrack # 03 - Main Theme 2:52
13 FINAL FANTASY II Original Soundtrack # 04 - Castle Pandemonium 1:20
14 FINAL FANTASY II Original Soundtrack # 05 - Battle Theme 2 2:21
15 FINAL FANTASY II Original Soundtrack # 06 - Chocobo Theme 0:32
16 FINAL FANTASY II Original Soundtrack # 07 - Tower of the Magi 1:35
17 FINAL FANTASY II Original Soundtrack # 08 - Finale 4:12
18 FINAL FANTASY II Original Soundtrack # 09 - Town 1:58
19 FINAL FANTASY II Original Soundtrack # 10 - The Imperial Army 2:56
20 FINAL FANTASY II Original Soundtrack # 11 - Dungeon 1:56
21 FINAL FANTASY III Original Soundtrack # 01 - Battle 1 1:34
22 FINAL FANTASY III Original Soundtrack # 02 - Victory 0:33
23 FINAL FANTASY III Original Soundtrack # 03 - Eternal Wind 1:43
24 FINAL FANTASY III Original Soundtrack # 04 - Battle 2 1:46
25 FINAL FANTASY III Original Soundtrack # 05 - The Crystal Tower 1:07
26 FINAL FANTASY III Original Soundtrack # 06 - This is the Last Battle -1- 0:38
27 FINAL FANTASY III Original Soundtrack # 08 - This is the Last Battle -2- 0:26
28 FINAL FANTASY III Original Soundtrack # 08 - This is the Last Battle -3- 1:24
29 FINAL FANTASY III Original Soundtrack # 09 - Aria, the Maiden of Water 2:07
30 FINAL FANTASY III Original Soundtrack # 10 - Crystal Cave 1:15
31 FINAL FANTASY III Original Soundtrack # 11 - The Boundless Ocean 1:23
32 FINAL FANTASY III Original Soundtrack # 12 - Salonia 1:07
33 FINAL FANTASY III Original Soundtrack # 13 - Let Me Know the Truth 1:07
34 FINAL FANTASY IV Original Soundtrack # 01 - The Red Wings 2:32
35 FINAL FANTASY IV Original Soundtrack # 02 - Main Theme of FINAL FANTASY IV 2:49
36 FINAL FANTASY IV Original Soundtrack # 03 - Battle 1 1:57
37 FINAL FANTASY IV Original Soundtrack # 04 - Battle with the Four Fiends 3:10
38 FINAL FANTASY IV Original Soundtrack # 05 - The Final Battle 2:53
39 FINAL FANTASY IV Original Soundtrack # 06 - Within the Giant 2:20
40 FINAL FANTASY IV Original Soundtrack # 07 - Battle 2 2:24
41 FINAL FANTASY IV Original Soundtrack # 08 - Troian Beauty 3:36
42 FINAL FANTASY IV Original Soundtrack # 09 - The Airship 0:59
43 FINAL FANTASY IV Original Soundtrack # 10 - Tower of Zot 1:36
44 FINAL FANTASY IV Original Soundtrack # 11 - Another Moon 2:16
45 FINAL FANTASY V Original Soundtrack # 01 - Main Theme of FINAL FANTASY V 2:38
46 FINAL FANTASY V Original Soundtrack # 02 - Battle 1 1:16
47 FINAL FANTASY V Original Soundtrack # 03 - Battle 2 2:31
48 FINAL FANTASY V Original Soundtrack # 04 - Battle at the Big Bridge 2:31
49 FINAL FANTASY V Original Soundtrack # 05 - The Decisive Battle 4:28
50 FINAL FANTASY V Original Soundtrack # 06 - Home, Sweet Home 2:43
51 FINAL FANTASY V Original Soundtrack # 07 - Four Hearts 1:45
52 FINAL FANTASY V Original Soundtrack # 08 - Mambo de Chocobo 1 :14
53 FINAL FANTASY V Original Soundtrack # 09 - Victory Fanfare 0:46
54 FINAL FANTASY V Original Soundtrack # 10 - The Dawn Warriors 2:18
55 FINAL FANTASY V Original Soundtrack # 11 - The Final Battle 4:05
56 FINAL FANTASY V Original Soundtrack # 12 - Harvest 1:48
57 FINAL FANTASY V Original Soundtrack # 13 - Library of Ancients 2:38
58 FINAL FANTASY V Original Soundtrack # 14 - The Airship 2:05
59 FINAL FANTASY V Original Soundtrack # 15 - A New World 2: 17
60 FINAL FANTASY V Original Soundtrack # 16 - In Search of Light 1:42
61 FINAL FANTASY VI Original Soundtrack # 01 - Battle 2:03
62 FINAL FANTASY VI Original Soundtrack # 02 - The Decisive Battle 2:03
63 FINAL FANTASY VI Original Soundtrack # 03 - Terra's Theme 3:54
64 FINAL FANTASY VI Original Soundtrack # 04 - Battle to the Death 2:39
65 FINAL FANTASY VI Original Soundtrack # 05 - Searching for Friends 3:00
66 FINAL FANTASY VI Original Soundtrack # 06 - Dancing Mad 17:41
67 FINAL FANTASY VI Original Soundtrack # 07 - Celes's Theme 3:00
68 FINAL FANTASY VI Original Soundtrack # 08 - Locke's Theme 2:05
69 FINAL FANTASY VI Original Soundtrack # 09 - Protect the Espers! 2:01
70 FINAL FANTASY VI Original Soundtrack # 10 - Edgar and Sabin's Theme 2:36
71 FINAL FANTASY VI Original Soundtrack # 11 - The Airship Blackjack 3:08
72 FINAL FANTASY VI Original Soundtrack # 12 - Kefka's Tower 2:53
73 FINAL FANTASY VII Original Soundtrack # 01 - Prelude 2:54
74 FINAL FANTASY VII Original Soundtrack # 02 - Opening - Bombing Mission 4:00
75 FINAL FANTASY VII Original Soundtrack # 03 - Let the Battles Begin! 2:49
76 FINAL FANTASY VII Original Soundtrack # 04 - Fight On! 3:34
77 FINAL FANTASY VII Original Soundtrack # 05 - Main Theme of FINAL FANTASY VII 6:31
78 FINAL FANTASY VII Original Soundtrack # 06 - JENOVA 2:34
79 FINAL FANTASY VII Original Soundtrack # 07 - Aerith's Theme 4:19
80 FINAL FANTASY VII Original Soundtrack # 08 - One-Winged Angel 7:20
81 FINAL FANTASY VII Original Soundtrack # 09 - Judgment Day 4:09
82 FINAL FANTASY VII Original Soundtrack # 10 - The Chase 3:39
83 FINAL FANTASY VII Original Soundtrack # 11 - Rufus's Welcoming Ceremony 2:16
84 FINAL FANTASY VII Original Soundtrack # 12 - Gold Saucer 2:00
85 FINAL FANTASY VII Original Soundtrack # 13 - Cosmo Canyon 3:37
86 FINAL FANTASY VII Original Soundtrack # 14 - The Highwind Takes to the Skies 3:37
87 FINAL FANTASY VIII Original Soundtrack # 01 - Liberi Fatali 3:09
88 FINAL FANTASY VIII Original Soundtrack # 02 - Balamb GARDEN 3:31
89 FINAL FANTASY VIII Original Soundtrack # 03 - Don't be Afraid 2:53
90 FINAL FANTASY VIII Original Soundtrack # 04 - The Landing 4:37
91 FINAL FANTASY VIII Original Soundtrack # 05 - Force Your Way 3:55
92 FINAL FANTASY VIII Original Soundtrack # 06 - The Man with the Machine Gun 2:51
93 FINAL FANTASY VIII Original Soundtrack # 07 - Fisherman's Horizon 3 : 37
94 FINAL FANTASY VIII Original Soundtrack # 08 - Maybe I'm a Lion 5:36
95 FINAL FANTASY VIII Original Soundtrack # 09 - The Extreme 6:46
96 FINAL FANTASY VIII Original Soundtrack # 10 - Waltz for the Moon 3:02
97 FINAL FANTASY VIII Original Soundtrack # 11 - Blue Fields 2:55
98 FINAL FANTASY VIII Original Soundtrack # 12 - Shuffle or Boogie 2:06
99 FINAL FANTASY VIII Original Soundtrack # 13 - Premonition 4:38
100 FINAL FANTASY VIII Original Soundtrack # 14 - Find Your Way 3:49
101 FINAL FANTASY VIII Original Soundtrack # 15 - The Oath 3:27
102 FINAL FANTASY VIII Original Soundtrack # 16 - Ride On 3:04
103 FINAL FANTASY VIII Original Soundtrack # 17 - The Castle 5:21
104 FINAL FANTASY IX Original Soundtrack # 01 - A Place to Call Home 2:10
105 FINAL FANTASY IX Original Soundtrack # 02 - Battle 1 2:42
106 FINAL FANTASY IX Original Soundtrack # 03 - Battle 2 4:07
107 FINAL FANTASY IX Original Soundtrack # 04 - Roses of May 2:35
108 FINAL FANTASY IX Original Soundtrack #
110 FINAL FANTASY IX Original Soundtrack # 07 - Behind the Door 2:08
111 FINAL FANTASY IX Original Soundtrack # 08 - Over the Hill 2:40
112 FINAL FANTASY IX Original Soundtrack # 09 - Something to Protect 2:23
113 FINAL FANTASY IX Original Soundtrack # 10 - Vamo'alla flamenco 1:54
114 FINAL FANTASY IX Original Soundtrack # 11 - Swords of Fury 2:43
115 FINAL FANTASY IX Original Soundtrack # 12 - Festival of the Hunt 3:49
116 FINAL FANTASY IX Original Soundtrack # 13 - The Darkness of Eternity 4:44
117 FINAL FANTASY IX Original Soundtrack # 14 - Vivi's Theme 3:13
118 FINAL FANTASY IX Original Soundtrack # 15 - Dark City Treno 2:55
119 FINAL FANTASY IX Original Soundtrack # 16 - Iifa, the Ancient Tree of Life 2:30
120 FINAL FANTASY IX Original Soundtrack # 17 - Ipsen's Castle 2:00
121 FINAL FANTASY IX Original Soundtrack # 18 - Aboard the Hilda Garde 4:09
122 FINAL FANTASY IX Original Soundtrack PLUS # 01 - Dagger Cuts Her Hair 0:53
123 FINAL FANTASY IX Original Soundtrack PLUS # 02 - Main Theme 4:53
124 FINAL FANTASY X Original Soundtrack # 01 - Battle Theme 3:23
125 FINAL FANTASY X Original Soundtrack # 02 - Thunder Plains 3:45
126 FINAL FANTASY X Original Soundtrack # 03 - A Fleeting Dream 4:26
127 FINAL FANTASY X Original Soundtrack # 04 - Fight with Seymour 5:48
128 FINAL FANTASY X Original Soundtrack # 05 - Mi'ihen Highroad 3:24
129 FINAL FANTASY X Original Soundtrack # 06 - Blitz Off! 3:33
130 FINAL FANTASY X Original Soundtrack # 07 - Assault 4:08
131 FINAL FANTASY X Original Soundtrack # 08 - Challenge 4:20
132 FINAL FANTASY X Original Soundtrack # 09 - A Contest of Aeons 5:58
133 FINAL FANTASY X Original Soundtrack # 10 - Final Battle 5:52
134 FINAL FANTASY X Original Soundtrack # 11 - Spira Unplugged 2:50
135 FINAL FANTASY X Original Soundtrack # 12 - Movement In Green 3:18
136 FINAL FANTASY X Original Soundtrack # 13 - Launch 3:30
137 FINAL FANTASY X Original Soundtrack # 14 - Via Purifico 2:30
138 FINAL FANTASY X Original Soundtrack # 15 - Servants of the Mountain 4:43
139 FINAL FANTASY XI Original Soundtrack # 01 - FFXI Opening Theme 6:48
140 FINAL FANTASY XI Original Soundtrack # 02 - Ronfaure 4:58
141 FINAL FANTASY XI Original Soundtrack # 03 - Battle Theme 2:18
142 FINAL FANTASY XI Original Soundtrack # 04 - Selbina 2:19
143 FINAL FANTASY XI Original Soundtrack # 05 - Awakening 5:22
144 FINAL FANTASY XI Original Soundtrack # 06 - Gustaberg 4:14
145 FINAL FANTASY XI Original Soundtrack # 07 - Sarutabaruta 2:49
146 FINAL FANTASY XI Original Soundtrack # 08 - Heavens Tower 6:26
147 FINAL FANTASY XI Original Soundtrack # 09 - Voyager 2:16
148 FINAL FANTASY XI Rise of the Zilart Original Soundtrack # 01 - The Sanctuary of Zi'Tah 4:15
149 FINAL FANTASY XI Rise of the Zilart Original Soundtrack # 02 - Fighters of the Crystal 3:34
150 FINAL FANTASY XI Rise of the Zilart Original Soundtrack # 03 - Tough Battle # 2 2 : 48
151 FINAL FANTASY XI Chains of Promathia Original Soundtrack # 01 - A New Horizon - Tavnazian Archipelago 3:34
152 FINAL FANTASY XI Wings of the Goddess Original Soundtrack # 01 - Iron Colossus 2:19
153 FINAL FANTASY XI Wings of the Goddess Original Soundtrack # 02 - Ragnarok 2:54
154 FINAL FANTASY XI Original Soundtrack PLUS # 01 - Melodies Errant 3:26
155 FINAL FANTASY XI Original Soundtrack PLUS # 02 - Shinryu 5:52
156 FINAL FANTASY XII Original Soundtrack # 01 - Boss Battle 3:25
157 FINAL FANTASY XII Original Soundtrack # 02 - Streets of Rabanastre 5:28
158 FINAL FANTASY XII Original Soundtrack # 03 - The Dalmasca Estersand 4:04
159 FINAL FANTASY XII Original Soundtrack # 04 - Flash of Steel 2:37
160 FINAL FANTASY XII Original Soundtrack # 05 - The Archadian Empire 7:51
161 FINAL FANTASY XII Original Soundtrack # 06 - Battle with an Esper 3:25
162 FINAL FANTASY XII Original Soundtrack # 07 - Battle on the Big Bridge (FFXII Version) 2:47
163 FINAL FANTASY XII Original Soundtrack # 08 - Giza Plains 4:44
164 FINAL FANTASY XII Original Soundtrack # 09 - Ending Movie 6:21
165 FINAL FANTASY XII Original Soundtrack # 10 - Life and Death 2:46
166 FINAL FANTASY XII Original Soundtrack # 11 - Struggle for Freedom 8:53
167 FINAL FANTASY XII Original Soundtrack # 12 - Heart of a Child 3:03
168 FINAL FANTASY XII Original Soundtrack # 13 - The Mosphoran Highwaste 2:52
169 FINAL FANTASY XII Original Soundtrack # 14 - Phon Coast 4:00
170 FINAL FANTASY XIII Original Soundtrack # 01 - FINAL FANTASY XIII - The Promise 1:31
171 FINAL FANTASY XIII Original Soundtrack # 02 - Defiers of Fate 2:25
172 FINAL FANTASY XIII Original Soundtrack # 03 - Saber's Edge 3:15
173 FINAL FANTASY XIII Original Soundtrack # 04 - Blinded By Light 2:57
174 FINAL FANTASY XIII Original Soundtrack # 05 - Lightning's Theme 2:28
175 FINAL FANTASY XIII Original Soundtrack # 06 - The Sunleth Waterscape 3:48
176 FINAL FANTASY XIII Original Soundtrack # 07 - Desperate Struggle 3:51
177 FINAL FANTASY XIII Original Soundtrack # 08 - Fighting Fate 2: 29
178 FINAL FANTASY XIII Original Soundtrack # 09 - Nascent Requiem 5:03
179 FINAL FANTASY XIII Original Soundtrack # 10 - March of the Dreadnoughts 2:32
180 FINAL FANTASY XIII Original Soundtrack # 11 - The Gapra Whitewood 2:46
181 FINAL FANTASY XIII Original Soundtrack # 12 - The Archylte Steppe 4:26
182 FINAL FANTASY XIII Original Soundtrack # 13 - Dust to Dust 3:50
183 Before Meteor: FINAL FANTASY XIV Original Soundtrack # 01 - Fallen Angel 4:32
184 A REALM REBORN: FINAL FANTASY XIV Original Soundtrack # 01 - Torn from the Heavens 5:13
185 A REALM REBORN: FINAL FANTASY XIV Original Soundtrack # 02 - Under the Weight 11:36
186 A REALM REBORN: FINAL FANTASY XIV Original Soundtrack # 03 - The Land Breathes 3:06
187 A REALM REBORN: FINAL FANTASY XIV Original Soundtrack # 04 - To the Sun 6:36
188 A REALM REBORN: FINAL FANTASY XIV Original Soundtrack # 05 - On Westerly Winds 5:21
189 A REALM REBORN: FINAL FANTASY XIV Original Soundtrack # 06 - Serenity 5:54
190 A REALM REBORN: FINAL FANTASY XIV Original Soundtrack # 07 - Engage 3:38
191 DISSIDIA FINAL FANTASY Original Soundtrack # 01 - DISSIDIA - opening - from DISSIDIA FINAL FANTASY 5:34
192 DISSIDIA FINAL FANTASY Original Soundtrack # 02 - Prelude - menu - from DISSIDIA FINAL FANTASY 3:01
193 DISSIDIA FINAL FANTASY Original Soundtrack # 03 - DISSIDIA - menu - from DISSIDIA FINAL FANTASY 1:25
194 DISSIDIA FINAL FANTASY Original Soundtrack # 04 - Keeping the Peace from DISSIDIA FINAL FANTASY. 2:27
195 DISSIDIA FINAL FANTASY Original Soundtrack # 05 - Victory Fanfare - Cosmos - from DISSIDIA FINAL FANTASY 1:14
196 DISSIDIA FINAL FANTASY Original Soundtrack # 06 - Main Theme - arrange - from FINAL FANTASY I 1:30
197 DISSIDIA FINAL FANTASY Original Soundtrack # 07 - Battle - arrange - from FINAL FANTASY I 3:34
198 DISSIDIA FINAL FANTASY Original Soundtrack # 08 - Dungeon - arrange - from FINAL FANTASY I 2:28
199 DISSIDIA FINAL FANTASY Original Soundtrack # 09 - Main Theme - arrange - from FINAL FANTASY II 1:57
200 DISSIDIA FINAL FANTASY Original Soundtrack # 10 - Battle Theme 1 - arrange - from FINAL FANTASY II 3:45
201 DISSIDIA FINAL FANTASY Original Soundtrack # 11 - Battle Theme 2 - arrange - from FINAL FANTASY II 2:55
202 DISSIDIA FINAL FANTASY Original Soundtrack # 12 - Warriors of Light from DISSIDIA FINAL FANTASY 0:36
203 DISSIDIA FINAL FANTASY Original Soundtrack # 13 - Eternal Wind - arrange - from FINAL FANTASY III 2:25
204 DISSIDIA FINAL FANTASY Original Soundtrack # 14 - Battle 2 - arrange - from FINAL FANTASY III 3:03
205 DISSIDIA FINAL FANTASY Original Soundtrack # 15 - This is the Last Battle - arrange - from FINAL FANTASY III 2:00
206 DISSIDIA FINAL FANTASY Original Soundtrack # 16 - Battle Preparations from DISSIDIA FINAL FANTASY 1:49
207 DISSIDIA FINAL FANTASY Original Soundtrack # 17 - Main Theme Of Final Fantasy IV - arrange - from FINAL FANTASY IV 2:41
208 DISSIDIA FINAL FANTASY Original Soundtrack # 18 - Battle With the Four Fiends - arrange - from FINAL FANTASY IV 3:13
209 DISSIDIA FINAL FANTASY Original Soundtrack # 19 - Battle 2 - arrange - from FINAL FANTASY IV 2:27
210 DISSIDIA FINAL FANTASY Original Soundtrack # 20 - Victory Fanfare - Chaos - from DISSIDIA FINAL FANTASY 1:22
211 DISSIDIA FINAL FANTASY Original Soundtrack # 21 - Four Hearts - arrange - from FINAL FANTASY V 1:52
212 DISSIDIA FINAL FANTASY Original Soundtrack # 22 - Battle at the Big Bridge - arrange - from FINAL FANTASY V 2:31
213 DISSIDIA FINAL FANTASY Original Soundtrack # 23 - Battle 1 - arrange - from FINAL FANTASY V 1:17
214 DISSIDIA FINAL FANTASY Original Soundtrack # 24 - At Presentiment's Edge from DISSIDIA FINAL FANTASY 3:13
215 DISSIDIA FINAL FANTASY Original Soundtrack # 25 - Terra's Theme - arrange - from FINAL FANTASY VI 1:08
216 DISSIDIA FINAL FANTASY Original Soundtrack # 26 - The Decisive Battle - arrange - from FINAL FANTASY VI 1:59
217 DISSIDIA FINAL FANTASY Original Soundtrack # 27 - Battle to the Death - arrange - from FINAL FANTASY VI 2:31
218 DISSIDIA FINAL FANTASY Original Soundtrack # 28 - The Quickening from DISSIDIA FINAL FANTASY 2:01
219 DISSIDIA FINAL FANTASY Original Soundtrack # 29 - The Troops' Advance from DISSIDIA FINAL FANTASY 2:36
220 DISSIDIA FINAL FANTASY Original Soundtrack # 30 - Main Theme of Final Fantasy VII - arrange - from FINAL FANTASY VII 2:23
221 DISSIDIA FINAL FANTASY Original Soundtrack # 31 - Fight On! - arrange - from FINAL FANTASY VII 3:09
222 DISSIDIA FINAL FANTASY Original Soundtrack # 32 - A Brief Respite from DISSIDIA FINAL FANTASY 0:56
223 DISSIDIA FINAL FANTASY Original Soundtrack # 33 - Blue Fields - arrange - from FINAL FANTASY VIII 2:17
224 DISSIDIA FINAL FANTASY Original Soundtrack # 34 - Don't be Afraid - arrange - from FINAL FANTASY VIII 2:57
225 DISSIDIA FINAL FANTASY Original Soundtrack # 35 - Defeat from DISSIDIA FINAL FANTASY 0:52
226 DISSIDIA FINAL FANTASY Original Soundtrack # 36 - Over the Hill - arrange - from FINAL FANTASY IX 2:39
227 DISSIDIA FINAL FANTASY Original Soundtrack # 37 - Battle 1 - arrange - from FINAL FANTASY IX 3:17
228 DISSIDIA FINAL FANTASY Original Soundtrack # 38 - Movement in Green - arrange - from FINAL FANTASY X 2:12
229 DISSIDIA FINAL FANTASY Original Soundtrack # 39 - Answer from DISSIDIA FINAL FANTASY 1:55
230 DISSIDIA FINAL FANTASY Original Soundtrack # 40 - FINAL FANTASY from DISSIDIA FINAL FANTASY 2:15
231 DISSIDIA FINAL FANTASY Original Soundtrack # 41 - DISSIDIA - ending - from DISSIDIA FINAL FANTASY 8:43
232 FINAL FANTASY TYPE-0 Original Soundtrack # 01 - We Have Come 4:31
233 FINAL FANTASY TYPE-0 Original Soundtrack # 02 - War: Warrior Worth a Thousand 2:40
236 FINAL FANTASY TYPE- 0 Original Soundtrack # 05 - Soar 2:50
237 FINAL FANTASY TYPE-0 Original Soundtrack # 06 - Tempus Finis 2:54
238 FINAL FANTASY TYPE-0 Original Soundtrack # 07 - Vermilion Fire 3:06
239 FINAL FANTASY TYPE-0 Original Soundtrack # 08 - Colorful - Falling in Love 4:33
240 DISSIDIA 012 [duodecim] FINAL FANTASY Original Soundtrack # 01 - Lux Concordiae from DISSIDIA 012 [duodecim] FINAL FANTASY 1:23
241 DISSIDIA 012 [duodecim] FINAL FANTASY Original Soundtrack # 02 - Matoya's Cave - arrange - from FINAL FANTASY I 1: 30
242 DISSIDIA 012 [duodecim] FINAL FANTASY Original Soundtrack # 03 - Chaos Shrine - arrange - from FINAL FANTASY I 2:13
243 DISSIDIA 012 [duodecim] FINAL FANTASY Original Soundtrack # 04 - Reform from DISSIDIA 012 [duodecim] FINAL FANTASY 1: 33
244 DISSIDIA 012 [duodecim] FINAL FANTASY Original Soundtrack # 05 - Dungeon - arrange - from FINAL FANTASY II 1:21
245 DISSIDIA 012 [duodecim] FINAL FANTASY Original Soundtrack # 06 - Pandaemonium - arrange - from FINAL FANTASY II 2:08
246 DISSIDIA 012 [duodecim] FINAL FANTASY Original Soundtrack # 07 - Gentle Breath from DISSIDIA 012 [duodecim] FINAL FANTASY 1:25
247 DISSIDIA 012 [duodecim] FINAL FANTASY Original Soundtrack # 08 - Crystal Cave - arrange - from FINAL FANTASY III 1: 52
248 DISSIDIA 012 [duodecim] FINAL FANTASY Original Soundtrack # 09 - Battle 1 - arrange - from FINAL FANTASY III 1:43
249 DISSIDIA 012 [duodecim] FINAL FANTASY Original Soundtrack # 10 - Heroes from DISSIDIA 012 [duodecim] FINAL FANTASY 1: 21
250 DISSIDIA 012 [duodecim] FINAL FANTASY Original Soundtrack # 11 - Dungeon - arrange - from FINAL FANTASY IV 1:14
251 DISSIDIA 012 [duodecim] FINAL FANTASY Original Soundtrack # 12 - Suspicion - arrange - from FINAL FANTASY IV 1:39
252 DISSIDIA 012 [duodecim] FINAL FANTASY Original Soundtrack # 13 - Battle 1 - arrange - from FINAL FANTASY IV 2:34
253 DISSIDIA 012 [duodecim] FINAL FANTASY Original Soundtrack # 14 - Peace of Mind from DISSIDIA 012 [duodecim] FINAL FANTASY 2 :
32,254 DISSIDIA 012 [duodecim] FINAL FANTASY Original Soundtrack # 15 - Dungeon - arrange - from FINAL FANTASY V 1:31
255 DISSIDIA 012 [duodecim] FINAL FANTASY Original Soundtrack # 16 - The Final Battle - arrange - from FINAL FANTASY V 2 : 05
256 DISSIDIA 012 [duodecim] FINAL FANTASY Original Soundtrack # 17 - Tension from DISSIDIA 012 [duodecim] FINAL FANTASY 2:05
257 DISSIDIA 012 [duodecim] FINAL FANTASY Original Soundtrack # 18 - Phantom Forest - arrange - from FINAL FANTASY VI 1 : 58
258 DISSIDIA 012 [duodecim] FINAL FANTASY Original Soundtrack # 19 - Battle - arrange - from FINAL FANTASY VI 1:23
259 DISSIDIA 012 [duodecim] FINAL FANTASY Original Soundtrack # 20 - The Threat from DISSIDIA 012 [duodecim] FINAL FANTASY 2:45
260 DISSIDIA 012 [duodecim] FINAL FANTASY Original Soundtrack # 21 - Tifa's Theme - arrange - from FINAL FANTASY VII 1:11
261 DISSIDIA 012 [duodecim] FINAL FANTASY Original Soundtrack # 22 - Forested Temple - arrange - from FINAL FANTASY VII 1:45
262 DISSIDIA 012 [duodecim] FINAL FANTASY Original Soundtrack # 23 - JENOVA - arrange - from FINAL FANTASY VII 1:50
263 DISSIDIA 012 [duodecim] FINAL FANTASY Original Soundtrack # 24 - Counterattack from DISSIDIA 012 [duodecim] FINAL FANTASY 2:17
264 DISSIDIA 012 [duodecim] FINAL FANTASY Original Soundtrack # 25 - Find Your Way - arrange - from FINAL FANTASY VIII 1:24
265 DISSIDIA 012 [duodecim] FINAL FANTASY Original Soundtrack # 26 - Julia - arrange - from FINAL FANTASY VIII 1:06
266 DISSIDIA 012 [duodecim] FINAL FANTASY Original Soundtrack # 27 - Force Your Way - arrange - from FINAL FANTASY VIII 2:08
267 DISSIDIA 012 [duodecim] FINAL FANTASY Original Soundtrack # 28 - Troops from DISSIDIA 012 [duodecim] FINAL FANTASY 2: 45
268 DISSIDIA 012 [duodecim] FINAL FANTASY Original Soundtrack # 29 - A Place to Call Home - arrange - from FINAL FANTASY IX 1:21
269 ​​DISSIDIA 012 [duodecim] FINAL FANTASY Original Soundtrack # 30 - The Final Battle - arrange - from FINAL FANTASY IX 2:15
270 DISSIDIA 012 [duodecim] FINAL FANTASY Original Soundtrack # 31 - Final Resolve from DISSIDIA 012 FINAL FANTASY 2:43
271 DISSIDIA 012 [duodecim] FINAL FANTASY Original Soundtrack # 32 - Yuna's Theme - arrange - from FINAL FANTASY X 1:42
272 DISSIDIA 012 [duodecim] FINAL FANTASY Original Soundtrack # 33 - A Contest Of Aeons - arrange - from FINAL FANTASY X 3:26
273 DISSIDIA 012 [duodecim] FINAL FANTASY Original Soundtrack # 34 - DISSIDIA -opening- / Edit from DISSIDIA 012 [duodecim] FINAL FANTASY 3:14
274 DISSIDIA 012 [duodecim] FINAL FANTASY Original Soundtrack # 35 - A Realm of Emptiness - arrange - from FINAL FANTASY XI 2:19
275 DISSIDIA 012 [duodecim] FINAL FANTASY Original Soundtrack # 36 - Canto Mortis -An Undocumented Battle- from DISSIDIA 012 [duodecim] FINAL FANTASY 2:26
276 DISSIDIA 012 [duodecim] FINAL FANTASY Original Soundtrack # 37 - Battle with an Esper Manufacturer - from FINAL FANTASY XII 1:57
277 DISSIDIA 012 [duodecim] FINAL FANTASY Original Soundtrack # 38 - Gate to the Rift from DISSIDIA 012 [duodecim] FINAL FANTASY 2:47
278 DISSIDIA 012 [duodecim] FINAL FANTASY Original Soundtrack # 38 - Blinded By Light - arrange - from FINAL FANTASY XIII 2:06
279 DISSIDIA 012 [duodecim] FINAL FANTASY Original Soundtrack # 39 - Saber's Edge - arrange - from FINAL FANTASY XIII 3:03
280 DISSIDIA 012 [duodecim] FINAL FANTASY Original Soundtrack # 41 - Cantata Mortis & God in Fire from DISSIDIA 012 [duodecim] FINAL FANTASY 7:26
281 DISSIDIA 012 [duodecim] FINAL FANTASY Original Soundtrack # 42 - Carmen Lucis from DISSIDIA 012 [duodecim ] FINAL FANTASY 2:18
282 DISSIDIA 012 [duodecim] FINAL FANTASY from DISSIDIA 012 [duodecim] FINAL FANTASY 2:18
283 DISSIDIA 012 [duodecim] FINAL FANTASY Original Soundtrack # 43 - Cantata Mortis DIST [duodecim] FINAL FANTASY 3:35
284 DISSIDIA 012 [duodecim] FINAL FANTASY Original Soundtrack # 45 - God in Fire from DISSIDIA 012 [duodecim] FINAL FANTASY 4:15
285 DISSIDIA 012 [duodecim] FINAL FANTASY Original Soundtrack # 46 - Overture from DISSIDIA 012 [duodecim] FINAL FANTASY 2:59
DISSIDIA 286 012 [duodecim] FINAL FANTASY Original Soundtrack # 47 - DISSIDIA FINAL FANTASY [JF2008] 3:46
287 DISSIDIA 012 [duodecim] FINAL FANTASY Original Soundtrack # 48 - DISSIDIA FINAL FANTASY [FINAL TRAILER] 5:21
288 DISSIDIA 012 [duodecim ] FINAL FANTASY Original Soundtrack # 49 - DISSIDIA 012 [duodecim] FINAL FANTASY [TGS2010] 4:07
289 DISSIDIA 012 [duodecim] FINAL FANTASY Original Soundtrack # 50 - DISSIDIA 012 [duodecim] FINAL FANTASY [FINAL TRAILER]
291 JUSTICE MONSTERS FIVE Original Soundtrack # 02 - Halcyon Days 3:52
292 JUSTICE MONSTERS FIVE Original Soundtrack # 03 - Blazing Heart of Justice! 3:05
293 JUSTICE MONSTERS FIVE Original Soundtrack # 04 - High Five for Justice! 3:43
294 JUSTICE MONSTERS FIVE Original Soundtrack # 05 - Prince of Peerless Power 3:13
295 JUSTICE MONSTERS FIVE Original Soundtrack # 06 - JUSTICE MONSTERS FIVE 3:39
296 KINGSGLAIVE FINAL FANTASY XV Original Soundtrack # 01 - Prologue 3:16
297 KINGSGLAIVE FINAL FANTASY XV Original Soundtrack # 02 - Under Siege 2:20
298 KINGSGLAIVE FINAL FANTASY XV Original Soundtrack # 03 - Calling for Rain 3:42
299 KINGSGLAIVE FINAL FANTASY XV Original Soundtrack # 04 - Missing Princess 3:11
300 KINGSGLAIVE FINAL FANTASY XV Original Soundtrack # 05 - The General and the King 3:26
301 KINGSGLAIVE FINAL FANTASY XV Original Soundtrack # 06 - At Struggle's End 3:43
302 KINGSGLAIVE FINAL FANTASY XV Original Soundtrack # 07 - NYX 2:49
Disc length 919: 40
资源下载
所有资源都在百度网盘,如有链接失效、解压错误等、请联系管理微信:lgychcom