英文片名:The Rock and Roll Hall of Fame In Concert
中文片名:摇滚名人堂音乐会2014-2017 (2017)
类       型:音乐
地       区:美国
文件大小:91.50 GB, 蓝光原盘 1080i
文件格式:BDMV/AVC
音       轨:英语 DTS-HDMA 5.1
字       幕:无字幕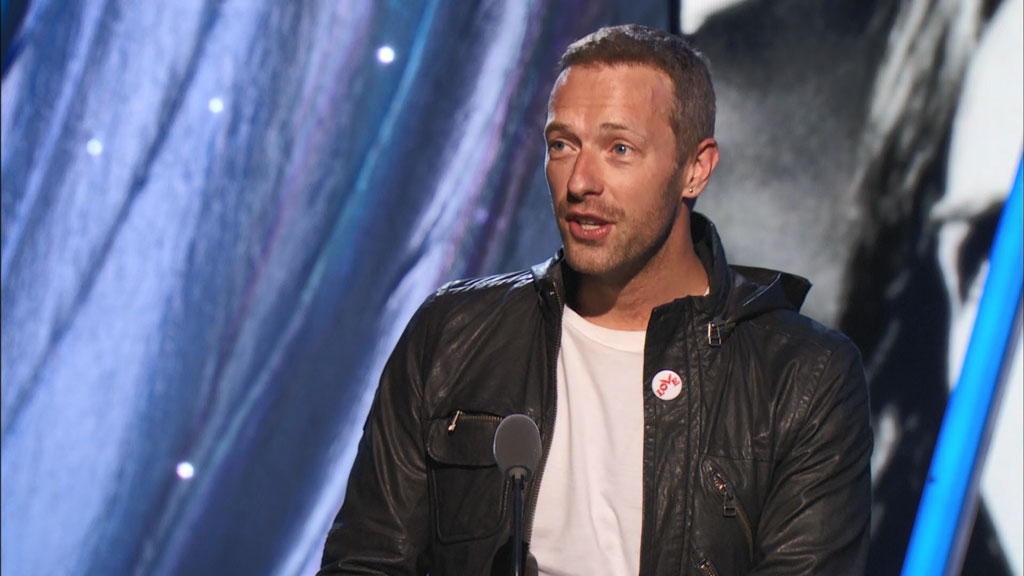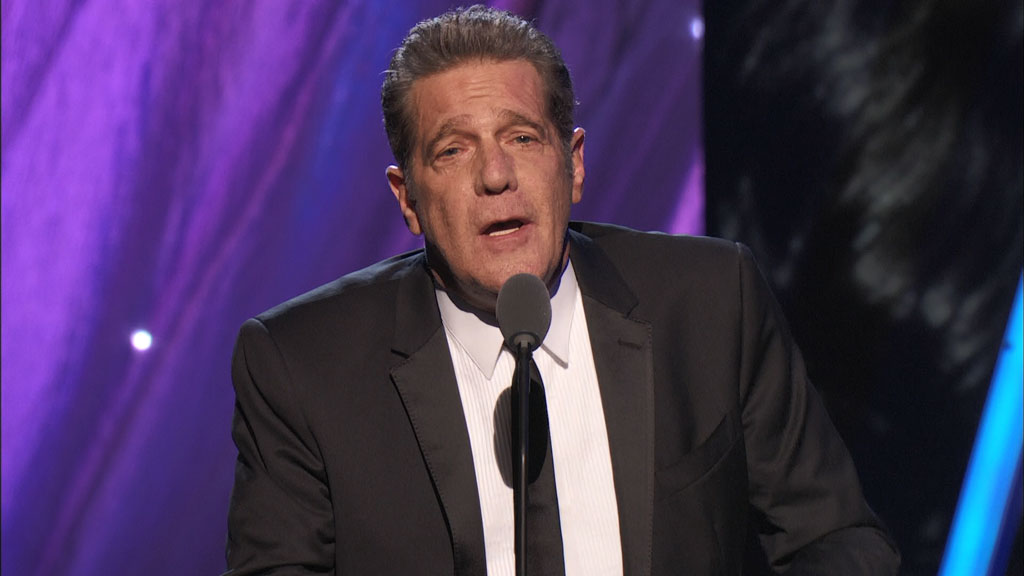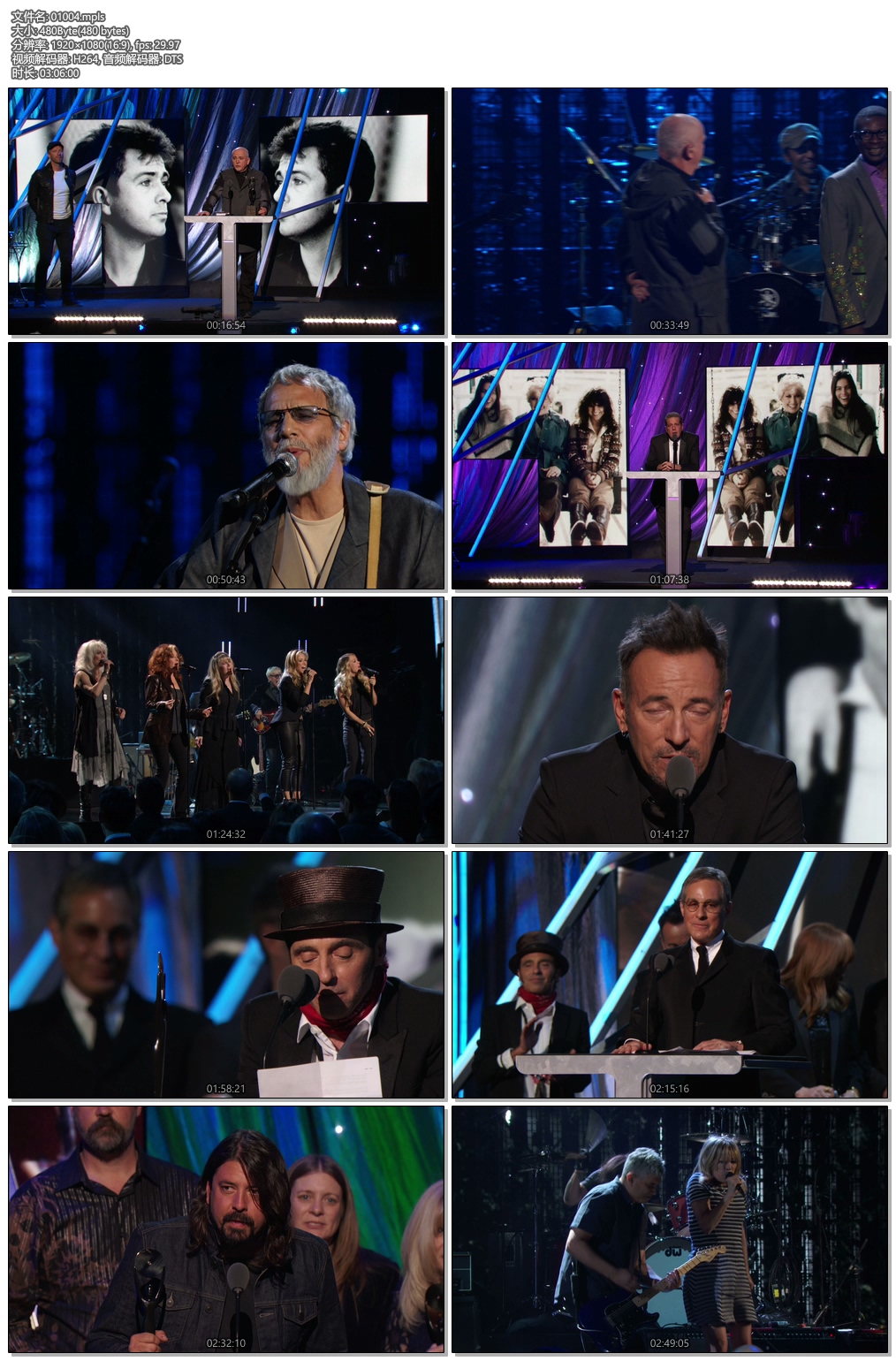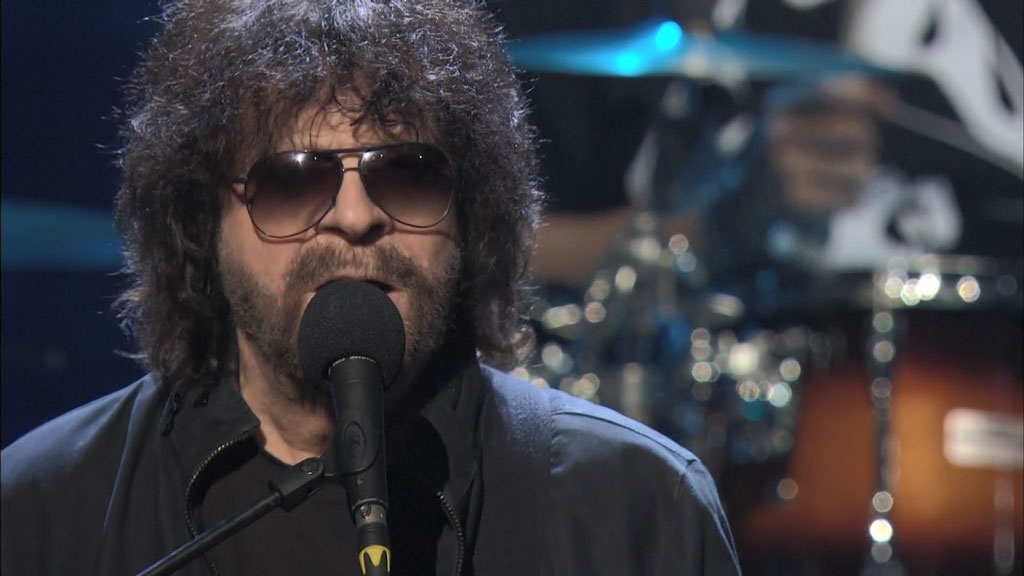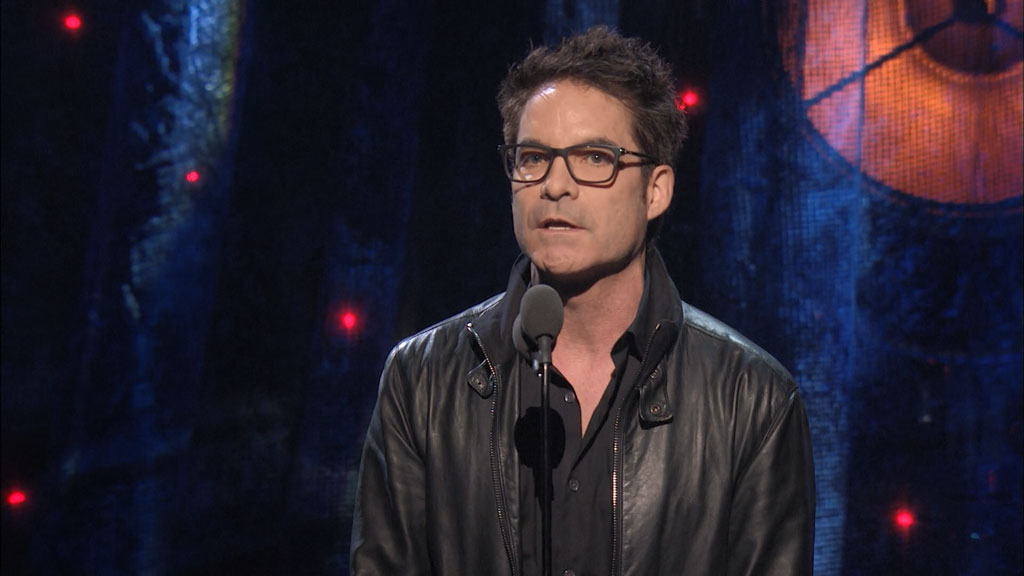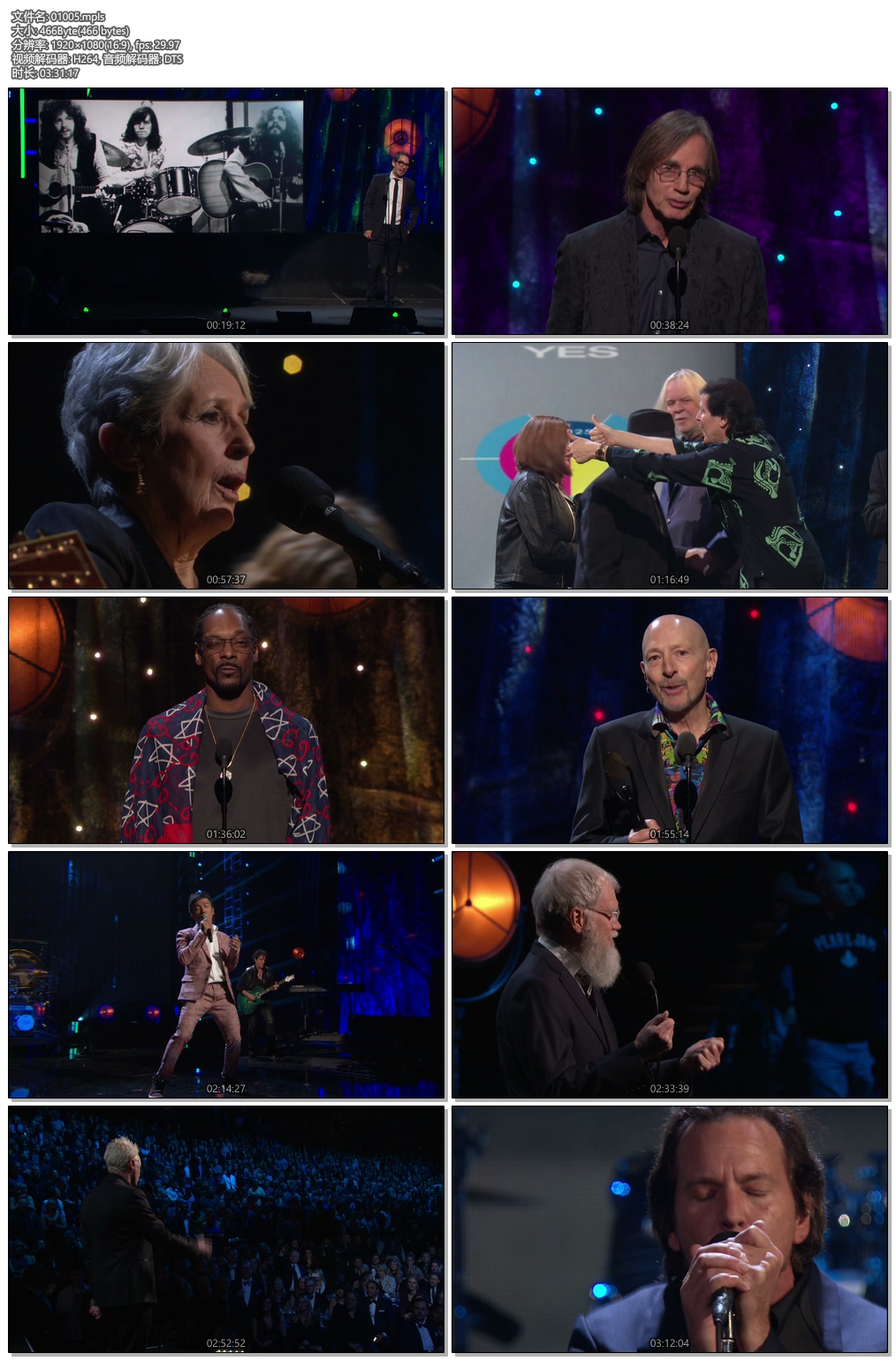 ..It's taken close to eight years, but Time Life is back with another Rock & Roll Hall of Fame Blu-ray release, albeit one that in some ways might be compared more accurately to another venerable magazine institution, Reader's Digest. This new two disc set assembles snippets from the induction ceremonies of several years of Rock & Roll Hall of Fame celebrations, along with selected performances from those inductions. It's a wonderful overview with some winning performances..
DISC 1
***The 29th Annual Rock & Roll Hall of Fame Induction Ceremony
(Barclays Center, Brooklyn, New York, April 10, 2014)
-Digging in the Dirt Peter Gabriel
-Chris Martin Inducts Peter Gabriel
-Peter Gabriel Acceptance Speech
-Washing of the Water Peter Gabriel and Chris Martin
-In Your Eyes Peter Gabriel with Youssou N'Dour
-Art Garfunkel Inducts Cat Stevens
-Cat Stevens Acceptance Speech
-Father & Son Cat Stevens with Paul Shaffer and the Hall of Fame Orchestra
-Wild World Cat Stevens with Paul Shaffer and the Hall of Fame Orchestra
-Peace Train Cat Stevens with Paul Shaffer and the Hall of Fame Orchestra
-Glenn Frey Inducts and Accepts on Behalf of Linda Rondstadt
-Different Drum Carrie Underwood and Paul Shaffer and the Hall of Fame Orchestra
-Blue Bayou Emmylou Harris, Bonnie Raitt, Carrie Underwood and Paul Shaffer and the Hall of Fame Orchestra
-You're No Good Sheryl Crow, Glenn Frey, Emmylou Harris, Bonnie Raitt, Carrie Underwood and Paul Shaffer and the Hall of Fame Orchestra
-It's So Easy Stevie Nicks, Sheryl Crow, Glenn Frey, Emmylou Harris, Bonnie Raitt, Carrie Underwood and Paul Shaffer and the Hall of Fame Orchestra
-When Will I Be Loved Sheryl Crow, Emmylou Harris, Stevie Nicks, Bonnie Raitt, Carrie Underwood and Paul Shaffer and the Hall of Fame Orchestra
-E Street Band Award for Musical Excellence
-Bruce Springsteen Inducts the E Street Band
-Acceptance Speech by Roy Bittan, Victoria Clemons on Behalf of Clarence Clemons, Jason Federici on Behalf of Danny Federici, Nils Lofgren, Vini Lopez, David Sancious, Patti Scialfa, Garry Tallent, Max Weinberg and Steven Van Zandt
-The E Street Shuffle Bruce Springsteen and the E Street Band
-Michael Stipe Inducts Nirvana
-Acceptance Speech with Dave Grohl, Krist Novoselic, and Courtney Love and Wendy O'Connor on Behalf of Kurt Cobain
-Smells Like Teen Spirit Dave Grohl and Krist Novoselic with Joan Jett and Pat Smear
-Aneurysm Dave Grohl and Krist Novoselic with Kim Gordon and Pat Smear
-Lithium Dave Grohl and Krist Novoselic with Annie Clark and Pat Smear
-All Apologies Dave Grohl and Kirst Novoselic with Annie Clark, Kim Gordon, Joan Jett, Lorde and Pat Smear
***The 30th Annual Rock & Roll Hall of Fame Induction Ceremony
(Public Hall, Cleveland, Ohio, April 18, 2015)
-Bad Reputation Joan Jett & The Blackhearts
-Cherry Bomb Joan Jett & The Blackhearts with Dave Grohl and Gary Ryan
-Crimson and Clover Joan Jett & The Blackhearts with Miley Cyrus, Gary Ryan, Dave Grohl and Tommy James
-Miley Cyrus Inducts Joan Jett & The Blackhearts
-Acceptance Speech with Ricky Byrd, Joan Jett and Gary Ryan
-Born in Chicago Zac Brown, Tom Morello, Jason Ricci and Paul Shaffer and the Hall of Fame Orchestra
-Peter Wolf Inducts The Paul Butterfield Blues Band
-Acceptance Speech with Elvin Bishop, Lee Butterfield on Behalf of Paul Butterfield, Sam Lay and Mark Naftalin
-Stevie Wonder Inducts Bill Withers
-Bill Withers Acceptance Speech
-Ain't No Sunshine Bill Withers with Stevie Wonder and Paul Shaffer and the Hall of Fame Orchestra
-Lean on Me Bill Withers with John Legend, Stevie Wonder and Paul Shaffer and the Hall of Fame Orchestra
-Fall Out Boy Inducts Green Day
-Acceptance Speech with Billie Joe Armstrong, Tre Cool and Mike Dirnt
-American Idiot Green Day
-When I Come Around Green Day
-Basket Case Green Day
-John Mayer Inducts Stevie Ray Vaughan and Double Trouble
-Acceptance Speech with Chris Layton, Tommy Shannon, Jimmie Vaughan on Behalf of Stevie Ray Vaughan, and Reese Wynans
-Texas Flood Double Trouble with Doyle Brahmhall II, Gary Clark Jr., John Mayer and Jimmie Vaughan
-Patti Smith Inducts Lou Reed
-Acceptance Speech with Laurie Anderson on Behalf of Lou Reed
-Satellite of Love Beck, Jason Falkner, Roger Joseph Manning Jr., Nate Ruess and Paul Shaffer and the Hall of Fame Orchestra
-Ringo Starr Award for Musical Excellence
-Paul McCartney Inducts Ringo Starr
-Ringo Starr Acceptance Speech
-Boys Ringo Starr with Green Day
-It Don't Come Easy Ringo Starr with Joe Walsh and Paul Shaffer and the Hall of Fame Orchestra
-I Wanna Be Your Man Ringo Starr with Paul McCartney, Joe Walsh, Paul Shaffer and the Hall of Fame Orchestra and the Rock & Roll Hall of Fame Jam Band
DISC 2
***The 31st Annual Rock & Roll Hall of Fame Induction Ceremony
(Barclays Center, Brooklyn, New York, April 8, 2016)
-Lars Ulrich Inducts Deep Purple
-Acceptance Speech with David Coverdale, Ian Gillan, Roger Glover, Glenn Hughes and Ian Paice
-Highway Star Deep Purple
-Smoke on the Water Deep Purple
-Bert Berns Ahmet Ertegun Award for Lifetime Achievement
-Steven Van Zandt Inducts Bert Berns
-Acceptance Speech with Cassandra Berns and Brett Berns on Behal of Bert Berns
-Kendrick Lamar Inducts N.W.A.
-Acceptance Speech with Dr. Dre, Ice Cube, DJ Yella and MC Ren
-Rob Thomas Inducts Chicago
-Acceptance Speech with Michelle Kath on Behalf of Terry Kath, Robert Lamm, Lee Loughnane, James Pankow, Walter Parazaider and Danny Seraphine
-Saturday in the Park Chicago
-Does Anybody Really Know What Time It Is? Chicago with Rob Thomas
-25 or 6 to 4 Chicago
-Kid Rock Inducts Cheap Trick
-Acceptance Speech with Bun E. Carlos, Rick Nielsen, Tom Petersson and Robin Zander
-I Want You to Want Me Cheap Trick
-Dream Police Cheap Trick
-Surrender Cheap Trick
-Ain't That a Shame Cheap Trick with the Rock & Roll Hall of Fame Jam Band
***The 32nd Annual Rock & Roll Hall of Fame Induction Ceremony
(Barclays Center, Brooklyn, New York, April 7, 2017)
-Roll Over Beethoven ELO
-Evil Woman ELO
-Mr. Blue Sky ELO
-Dhani Harrison Inducts ELO
-Acceptance Speech with Jeff Lynne and Roy Wood
-Jackson Browne Inducts Joan Baez
-Joan Baez Acceptance Speech
-Swing Low, Sweet Chariot Joan Baez
-Deportee (Plane Wreck at Los Gatos) Joan Baez with Mary Chapin Carpenter, Amy Ray and Emily Saliers
-The Night They Drove Old Dixie Down Joan Baez with Mary Chapin Carpenter, Amy Ray and Emily Saliers
-Geddy Lee and Alex Lifeson Induct Yes
-Acceptance Speech with Jon Anderson, Bill Bruford, Steve Howe, Trevor Rabin, Rick Wakeman and Alan White
-Roundabout Yes with Geddy Lee
-Owner of a Lonely Heart Yes
-Snoop Dogg Inducts and Accepts on Behalf of Tupac Shakur
-Pat Monahan Inducts Journey
-Acceptance Speech with Jonathan Cain, Aynsley Dunbar, Steve Perry, Gregg Rolie, Neal Schon, Steve Smith and Ross Valory
-Separate Ways (Worlds Apart) Journey
-Lights Journey
-Don't Stop Believin' Journey
-David Letterman Inducts Pearl Jam
-Acceptance Speech with Jeff Ament, Matt Cameron, Stone Gossard, Dave Krusen, Mike McCready and Eddie Vedder
-Alive Pearl Jam
-Given to Fly Pearl Jam
-Better Man Pearl Jam
资源下载
所有资源都在百度网盘,如有链接失效、解压错误等、请联系管理微信:lgychcom